Press release BoxID: 124718 (Moxa Europe GmbH)
Moxa Europe GmbH
Einsteinstraße 7
85716 Unterschleissheim,
de
/redirect/ext?tu=http%3A%2F%2Fwww.moxa.com&rp=QpzQkxy5vowXHv4Y0xO399grPh2uS2ooaSUtWC9kMV4
Contact person
Sonja Boldt
+49 (89) 3700399-40

Moxa's CN2610 with Redundancy for Serial Data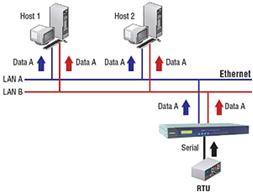 (PresseBox) (
Unterschleissheim

,
)
Industrial applications and critical environments demand redundancy mechanisms to ensure continuous factory and devices operation. A host with two LAN interfaces will get the Serial Data Redundancy with the CN2610 and Moxa's "Redundant Com" (patent pending) driver. The CN2610 and "Redundant COM" combination provide application software such as SCADA/HMI a transparent and automatic data redundancy through redundant Ethernet networks. The "Redundant COM" uses both CN2610's Ethernet ports, and both Ethernet ports of dual Ethernet workstations - SCADA/HMI, proprietary software - to guarantee a fail-safe operation without modifying the application software.
The publisher indicated in each case is solely responsible for the press releases above, the event or job offer displayed, and the image and sound material used (see company info when clicking on image/message title or company info right column). As a rule, the publisher is also the author of the press releases and the attached image, sound and information material.
The use of information published here for personal information and editorial processing is generally free of charge. Please clarify any copyright issues with the stated publisher before further use. In the event of publication, please send a specimen copy to
service@pressebox.de
.