Memorysolution new distributor for Hynix
With immediate effect, the Breisach, Germany based memory specialist is to distribute the Korean manufacturers' memory modules and flash memory products within the whole CE region.
Breisach

, (PresseBox) -
Effective December 1st, 2007, Memorysolution GmbH has been announced as new distributor for the CE market by Hynix Semiconductor Inc. (HSI) of Icheon, Korea, the world's top tier memory semiconductor supplier offering Dynamic Random Access Memory chips ("DRAMs") and Flash memory chips to a wide range of established international customers.

Under the terms of the contract, Memorysolution takes over the distribution of the whole range of memory products manufactured by Hynix into the Central European markets. Gerald Diercks, Managing Director of Memorysolution GmbH: "We happily joined into this strategic cooperation with another top player in the world market. The contract with Hynix is the logical continuation of our concept set up already in the very beginnings of our business back in 1997. It's that simple: we only ever provide proven and reliable quality at competitive price tags. We are especially proud that partnering with Hynix enables us to provide substantial added value to our customers: a broadened product portfolio of high-end, proved and tested memory technologies equals further increased product availability. Expanding the range of products made by leading manufacturers can only but let the time-critical business of our valued customer benefit from that."

Founded in 1997, Memorysolution GmbH today is the leading independent specialized supplier for proprietary memory expansions, Generic Modules and flash-based products in Europe.

The Hyundai spin-off Hynix Semiconductor today is a technology leader (iSupply: no. 2 in DRAM, no. 3 in NAND in 2006) in the fields of DRAM and NAND memory. Through its global manufacturing and sales support network Hynix has emerged as a leading DRAM supplier to major OEMs worldwide. Hynix operates 300mm wafer fabs worldwide.

Currently, Hynix offers a full range of DRAM products with DDR, DDR2 and DDR3 interfaces. A family of Graphic DRAM (GDDR3, GDDR4 and GDDR5) are also available. Hynix also offers low-power DRAM products optimized for use in mobile applications such as cell phones and other handheld devices.

Since 2004, Hynix Semiconductor has also become one of the leading companies in the NAND Flash memory market. Hynix provides not only NAND Flash components for removable data storage devices such as Memory stick, MMC, SD, CF, xD Picture Card and USB flash drive, but also the total NAND solution for many kinds of digital applications such as MP3 player, Personal Media Player (PMP), Digital still camera, Digital camcorder, portable and desktop computer and mobile phones through Multi Chip Package (MCP), DOC (Disk on chip) and Embedded Flash Drive technology. Currently Hynix offers both SLC (Single-level cell) and MLC (Multi-level cell) products with a broad range of densities from 128Mb up to 64Gb.

"We count ourselves lucky to have won Memorysolution as distributor for Hynix. Based upon their longstanding success and expertise in this highly competitive market, they have carved out their own place among the industry leaders in the memory business. Memorysolution provides an excellent after-sales support, so that customers are not left alone once a purchase decision was made. All in all their professionalism does create exactly the business climate we wish to see for our products, leading-edge memory solutions made by Hynix. Memorysolution will assume responsibility for the distribution of our goods and logistics support for all Hynix customers in the Central European region, thus increasing our coverage and market penetration in these areas", explains Franz Ruffer, Director Sales & Marketing of Hynix Europe.

Dealer prices are available upon request. Contact person for distribution related questions in the enterprise is Ralf Thoma.

About Hynix Semiconductor Inc.

Hynix Semiconductor Inc. (HSI) of Icheon, Korea, is the world's top tier memory semiconductor supplier offering Dynamic Random Access Memory chips ("DRAM") and Flash memory chips to a wide range of established international customers. The Company's shares are traded on the Korea Stock Exchange, and the Global Depository shares are listed on the Luxemburg Stock Exchange. Further information about Hynix is available at www.hynix.com.

All brands, trademarks and copyrights are property of their respective owners.
Memorysolution GmbH
Memorysolution GmbH was founded in 1997 and is one of the leading independent European distributors of proprietary memory upgrades, standard DRAM modules, hard drives, mother boards, barebones, coolers, and flash based products (e.g. SSD/flash cards). When working with Memorysolution you will see firsthand why the company motto is "enjoy the experience". Twelve years of experience , only the best brands with the highest quality, excellent cost-benefit ratio, extremely high availability, and 10 year warranty on all products (except HDD and mainboards) make Memorysolution a reliable and diversified distributor.

The goal of the company is to deliver high-quality parts at the right price just-in-time and to support customers with excellent and professional sales and technical service. Four national branch offices and a fully-owned US-based subsidiary are the ideal base for a globally operating company. Founder and President of Memorysolution is Gerald Diercks.

Please find more information at http://www.memorysolution.com
Press releases you might also be interested in
Weitere Informationen zum Thema "Hardware":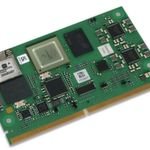 Erste ARM-i.MX8-CPUs auf SMARC 2.0 und Qseven
Die neue ARM-Tech­no­lo­gie ist ein­satz­be­reit. Zeit­g­leich zur Markt­ein­füh­rung der i.MX8-CPU-Fa­mi­lie von NXP prä­sen­tiert MSC sein ers­tes SMARC-2.0-Mo­dul mit echt­zeit­fähi­gem i.MX8M-Pro­zes­sor auf der em­bed­ded world.
Weiterlesen