Press release BoxID: 846682 (LAUDA DR. R. WOBSER GMBH & CO.KG)
LAUDA DR. R. WOBSER GMBH & CO.KG
Laudaplatz 1
97922 Lauda-Königshofen,
de
http://www.lauda.de
Contact person
José-Antonio Morata
+49 (9343) 503-380

LAUDA séduit avec LAUDA LOOP au forum LABO 2017
Des innovations tournées vers l'avenir pour des solutions en matière de thermorégulation à Paris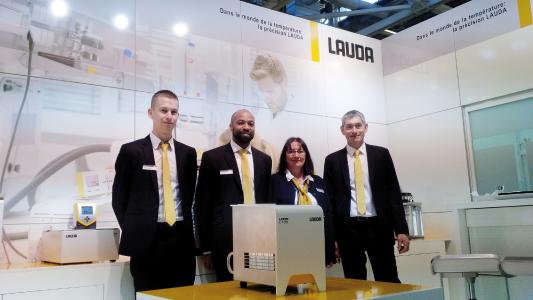 (PresseBox) (
Lauda-Königshofen

,
)
Pour LAUDA, leader mondial d'appareils et installations de thermorégulation, le forum annuel LABO, qui a eu lieu du 28 au 30 mars 2017 à Paris, s'est très bien déroulé avec des entretiens professionnels nombreux et intéressants. Un point fort pour les visiteurs professionnels a été tout particulièrement la présentation du nouveau thermostat à circulation thermoélectrique LAUDA LOOP sur base de technologie Peltier. À l'aide d'un courant électrique, la température du LAUDA LOOP est générée par un semi-conducteur et peut être utilisée soit pour chauffer soit pour refroidir grâce au retour simple du sens du courant. Les types d'appareil refroidis par air LAUDA LOOP L 100 et L 250 sont adaptés à des applications externes dans une plage de température de 4 à 80 °C. Pour l'industrie pharmaceutique et la biotechnologie, le design compact et peu encombrant du LAUDA LOOP représente une véritable valeur ajoutée. Le LAUDA LOOP peut être facilement utilisé pour les thermorégulations de réfractomètres, bioréacteurs, cuves d'électrophorèses ou pour la préparation d'échantillons. Avec le Ultracool UC Mini, LAUDA a présenté sur le salon de Paris un refroidisseur de processus à circulation compact ayant des capacités frigorifiques de 2 à 5 kilowatts et destiné aux applications industrielles. Les dimensions de ces appareils ont été nettement réduites par rapport à celles des modèles précédents, qui ont fait leurs preuves. Le design carré avec une longueur latérale de seulement 64 centimètres permet au client de positionner très facilement le Ultracool UC Mini dans l'espace. La gamme remarquable a été complétée sur le salon par la ligne de produits LAUDA PRO. Avec ses thermostats à bain performants pour la thermorégulation , interne de précision dans une plage de températures allant de -100 à 250 °C et ses thermostats à circulation de grande efficacité pour les besoins en chauffage et refroidissement d'applications externes dans une plage de températures allant de -45 à 250 °C. Ces nouveaux appareils soulignent également la nouvelle référence de thermorégulation intransigeante chez LAUDA pendant les trois jours à Paris.
The publisher indicated in each case is solely responsible for the press releases above, the event or job offer displayed, and the image and sound material used (see company info when clicking on image/message title or company info right column). As a rule, the publisher is also the author of the press releases and the attached image, sound and information material.
The use of information published here for personal information and editorial processing is generally free of charge. Please clarify any copyright issues with the stated publisher before further use. In the event of publication, please send a specimen copy to
service@pressebox.de
.