Press release BoxID: 818973 (Kappa optronics GmbH)
Kappa optronics GmbH
Kleines Feld 6
37130 Gleichen,
de
http://www.kappa-optronics.com
Contact person
Katrin Vogel
+49 (5508) 974-230

Project Camera with USB3 Vision or GigE Vision
Maximum flexibility: this camera "re-shapes" itself for your projects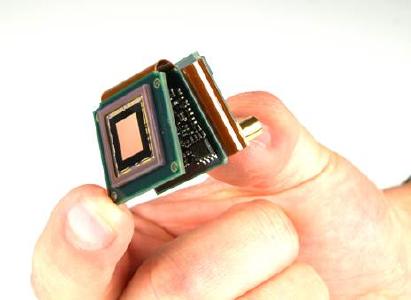 (PresseBox) (
Gleichen

,
)
With the new "FDC" camera platform, project expert Kappa optronics presents an answer to every wish for an affordable industrial camera. Remarkable about this solution is its flexibility, not only at the mechanical level, which is obvious even at first glance: this design can take any form the customer needs. The FDC project camera is available as a PCB version and as one with a cubic housing (29x29x29 mm), also equipped with IP protection class and different mounts, as well as with other geometric dimensions and additional functionalities as requested. The continually expanding sensor portfolio, currently consisting of first-class CMOS and CCD sensors from Sony, Pregius, ON Semi and e2V, allows optimal customization for customer needs. Sensor cover removal and cooling are also possible. Two outstanding interfaces are immediately selectable, USB3 Vision for single-cable data transfer with bandwidth up to 350 MB/sec, and the GigE Vision industrial interface, as well as further I/Os and triggers. Using standardized data protocols, project cameras can be easily integrated and connected via plug and play to popular software solutions. Additionally, a development kit is available. (VISION, Stuttgart/Germany, 8-10.11.2016, Kappa Hall/Booth: 1F43)
Für die oben stehenden Pressemitteilungen, das angezeigte Event bzw. das Stellenangebot sowie für das angezeigte Bild- und Tonmaterial ist allein der jeweils angegebene Herausgeber (siehe Firmeninfo bei Klick auf Bild/Meldungstitel oder Firmeninfo rechte Spalte) verantwortlich. Dieser ist in der Regel auch Urheber der Pressetexte sowie der angehängten Bild-, Ton- und Informationsmaterialien.
Die Nutzung von hier veröffentlichten Informationen zur Eigeninformation und redaktionellen Weiterverarbeitung ist in der Regel kostenfrei. Bitte klären Sie vor einer Weiterverwendung urheberrechtliche Fragen mit dem angegebenen Herausgeber. Bei Veröffentlichung senden Sie bitte ein Belegexemplar an
service@pressebox.de
.