BioMAT™ Workstation – Uncompromising AFM and Optical Imaging of Opaque Samples

Berlin

, (PresseBox) -
JPK Instruments introduces a new technical breakthrough that enables the combination of upright microscopy with atomic force microscopy (AFM) on the same sample spot – the BioMAT™ Workstation. This clears the way for a new range of applications where the full capabilities of both AFM and advanced optical imaging can be realized even on opaque samples.

Optical microscopy integrated with AFM is a powerful combination for investigating nanostructured materials and bio-materials. The composition or chemical information from optical fluorescence or spectroscopy complements the nano-imaging and nano-manipulation capabilities of the AFM, to provide a comprehensive understanding of the sample surface.

Previously this combination of techniques has been restricted to transparent samples, where the optical information comes from an inverted microscope observing through the sample from below, with the AFM operating above the sample. This setup is not practical for opaque samples, but the sub-millimeter working distance of advanced microscope objectives prevents the AFM approaching from the same side as the optics.

The BioMAT™ Workstation overcomes this limitation by enabling AFM and advanced optical microscopy to be sequentially applied to the same region of interest. A patented calibration procedure ensures that the region of interest can be found and re-imaged with micron precision, so exactly the same area can be investigated optically and with the AFM.

The key element of the BioMAT™ Workstation is the JPK NanoWizard®II AFM system, paired with an upright optical microscope. The extensive choice of optical microscope setups means that a wide range of optical contrast methods, fluorescence techniques and even confocal laser scanning or Raman mapping is possible. This is combined with the AFM for high resolution nanoimaging, elasticity and adhesion measurements, as well as nanomanipulation and lithography. In particular, it is now possible to make measurements in liquid with high resolution dipping lenses and AFM on the same sample area.

The BioMAT™ Workstation generates new possibilities for investigating bio-film formation, membrane models, biocompatible materials, cell growth on scaffolds and many more applications in engineering and bioengineering.
JPK Instruments AG
JPK Instruments AG is a leading manufacturer of nanoanalytic instruments - particularly atomic force microscope (AFM) systems - for research in life sciences and soft matter. One of Germany's most innovative nanotechnology companies, JPK was among the first to recognize the revolutionary opportunities this new field would open up for biomedical and pharmaceutical research. From the beginning, JPK has tailored its instrument platforms to meet the challenges these areas would face. JPK has developed powerful state-of-the-art solutions for high-resolution imaging, force measurement, nanomanipulation and nanolithography for life science applications. At the center of JPK's current portfolio are the BioAFM NanoWizard®, the CellHesion® module (for studying cell adhesion and cell mechanics phenomena), and the TAO module (for use in optical spectroscopy). The secret of JPK's success is its high level of application expertise and its close interaction with leading scientists and research centers in nanotechnology. Founded in 1999, the company is headquartered in Berlin and maintains a global network of distributors and support centers. In 2005 it launched nAmbition GmbH, a Dresden subsidiary specializing in the development of nano instruments for application in molecular medicine and pharmaceutical research. In August 2006, this was followed up by the 100% acquisition of lpi light power instruments GmbH, which is focussing on the development of optical nano-instrumentation for life science applications in research and industry.


About Deloitte Germany:
Deloitte is one of Germany's leading audit and consulting firms offering a full range of services combining audit, tax, consulting and corporate finance. 3,700 people in 18 offices have been serving companies and institutions of all kind – for 100 years. Deloitte is represented by the Deloitte Touche Tohmatsu network in over 140 countries world-wide with approximately 150,000 people.
Press releases you might also be interested in
Weitere Informationen zum Thema "Microtechnology":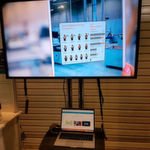 Das bietet Indoor Navigation kombiniert mit AR
In­s­i­der Re­se­arch im Ge­spräch mit In­s­i­der Na­vi­ga­ti­on: Auf dem Du­b­lin Tech Sum­mit traf Oli­ver Schon­schek von In­s­i­der Re­se­arch Cle­mens Kir­ner, Aug­men­ted-Rea­li­ty-Ex­per­te und Grün­der von In­s­i­der Na­vi­ga­ti­on.
Weiterlesen