Press release BoxID: 292718 (Jos. Schneider Optische Werke GmbH)
Jos. Schneider Optische Werke GmbH
Ringstraße 132
55543 Bad Kreuznach,
de
http://www.schneiderkreuznach.com
Contact person
Wolfgang Berger
+49 (671) 601-287

SCHNEIDER KREUZNACH and SOMO OPTICAL launch distribution of ophthalmic lenses in China
A strong alliance in a growing market.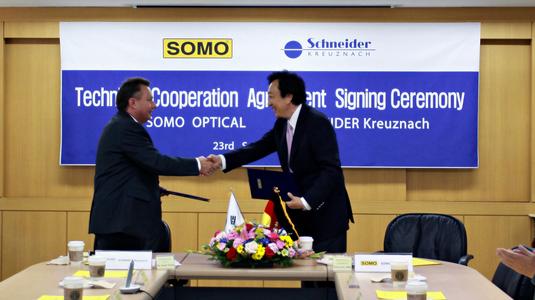 (PresseBox) (
Bad Kreuznach

,
)
A cooperation agreement between Schneider-Kreuznach and the Korean company Somo Optical Co., Ltd. was signed by the CEOs of both companies in Seoul on September 23rd. The alliance is founded on the Schneider Group's extensive know-how in manufacturing high-precision lenses and opthalmic lenses as well as Somo Optical's experience in the market for ophthalmic lenses. "This is a further element of our strategy to strengthen our presence in the Asian growth markets by offering a wide range of high-quality optical products and tap new markets," says Dr. Josef Staub, CEO of the Schneider Group. The company has already invested in new machines at the Bad Kreuznach site to expand its ophthalmic lenses business area. "We are looking forward to working with the internationally renowned Schneider-Kreuznach brand," says Soo Joon Shin, Chairman of Somo Optical Co., Ltd. Both partners do not rule out intensifying their cooperation in future.
Für die oben stehenden Pressemitteilungen, das angezeigte Event bzw. das Stellenangebot sowie für das angezeigte Bild- und Tonmaterial ist allein der jeweils angegebene Herausgeber (siehe Firmeninfo bei Klick auf Bild/Meldungstitel oder Firmeninfo rechte Spalte) verantwortlich. Dieser ist in der Regel auch Urheber der Pressetexte sowie der angehängten Bild-, Ton- und Informationsmaterialien.
Die Nutzung von hier veröffentlichten Informationen zur Eigeninformation und redaktionellen Weiterverarbeitung ist in der Regel kostenfrei. Bitte klären Sie vor einer Weiterverwendung urheberrechtliche Fragen mit dem angegebenen Herausgeber. Bei Veröffentlichung senden Sie bitte ein Belegexemplar an
service@pressebox.de
.