Press release BoxID: 296210 (JMS - Fahrzeugteile GmbH)
JMS - Fahrzeugteile GmbH
Hauptstraße 26
72141 Walddorfhäslach,
de
http://www.racelook.de
Contact person
Jochen Schweiker
+49 (7127) 31487

New JMS Racelook styling and Faclelifting for omega B
With the new design JMS made a more sportive styling for all omega b versions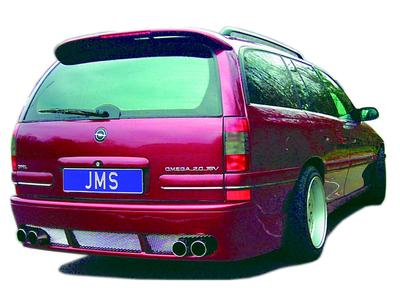 (PresseBox) (
Walddorfhäslach

,
)
Lowering with a coilover kit from KW V1 for the sedan and the estate (euros 1049). Which lower the omega B at the front 55mm and rear 45mm. JMS use ASA AR1 crosspoke wheels in the size 8,5x19 and 9,5x19 installed with 2353519 and 26530R19 tyre (1990 euros) (see green sedan). Styling in different styling kits for the omega B from 1995-2003. Diffrent variations for the omega b up to 2000. A Front lip spoiler (199 euro KFZ silver diagonally from the front) and air intakes for the front bumper (euro 119), which are attached beside the standard fog light. Alternatively (the Green omega B from the front) a complete front bumper in the Racelook Design (euro 329). As option black ligt alloy screens (24.90 euros) or silver screens (19.90 euros) are available for the openings. At the back a jms racelook rear apron spoiler for sedan and estate (Euro 199), also for this optionally silver or black racescreens are available. For the newer omega B versions jms create only a racelook front lip spoiler (Euro 199), which is mounted on the original front bumper. All JMS parts with TÜV and necessary mounting material.
The publisher indicated in each case is solely responsible for the press releases above, the event or job offer displayed, and the image and sound material used (see company info when clicking on image/message title or company info right column). As a rule, the publisher is also the author of the press releases and the attached image, sound and information material.
The use of information published here for personal information and editorial processing is generally free of charge. Please clarify any copyright issues with the stated publisher before further use. In the event of publication, please send a specimen copy to
service@pressebox.de
.