Press release BoxID: 319211 (JMS - Fahrzeugteile GmbH)
JMS - Fahrzeugteile GmbH
Hauptstraße 26
72141 Walddorfhäslach,
de
http://www.racelook.de
Contact person

+49 (7127) 31487

JMS Racelook exclusiv rim catalog 2010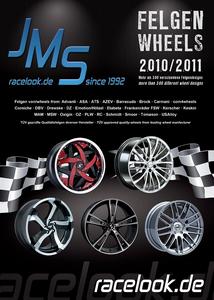 (PresseBox) (
Walddorfhäslach

,
)
To the season you keep the new rim catalog punctual with JMS 2009. With 96 sides and more than 300 rim Designs this is one of the largest rim catalogs at the market. The program contains the marks: ASA, Barracuda, break, Carmani, Corniche, DBV, DZ, Etabgeta, Frankenräder, FSW, Keskin, Kerscher, MAM, Oxigin, OZ, pro LINE, RC, Schmidt, Smoor, Tomason and US-Alloy. All wheels are either available with a ABE or T?V approved. The boltcircle is listed to each rim Design, which makes a fast allocation possible to the car. For the specialized trade and the autohouse interesting conditions. Of course also interesting selling prices for the final consumer. All products of the program from JMS are by the new sales concept with the specialized trade and/or. Autohouse available. On request JMS tell you the suitable dealer in your city or country.
The publisher indicated in each case is solely responsible for the press releases above, the event or job offer displayed, and the image and sound material used (see company info when clicking on image/message title or company info right column). As a rule, the publisher is also the author of the press releases and the attached image, sound and information material.
The use of information published here for personal information and editorial processing is generally free of charge. Please clarify any copyright issues with the stated publisher before further use. In the event of publication, please send a specimen copy to
service@pressebox.de
.