Press release BoxID: 326093 (JMS - Fahrzeugteile GmbH)
JMS - Fahrzeugteile GmbH
Hauptstraße 26
72141 Walddorfhäslach,
de
http://www.racelook.de
Contact person
Jochen Schweiker
+49 (7127) 31487

Audi Q5 stainless steel bumper protection from JMS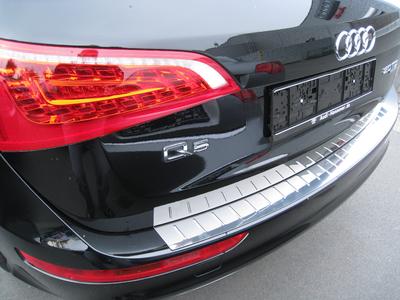 (PresseBox) (
Walddorfhäslach

,
)
The problem is wellknown from Q5 drivers that with loading do not scratch the series bumper nearly not possible to avoid is. Q 5 driver watched out, JMS offers immediately for the estate one Highgrade steel load edge protection (79,90 euros) , which covers 90% from the rear bumper. The assembly of the Q5 load edge protection takes place via a highquality special tape. Other parts like lowering springs, exhaust systems, wheels... you can also get from jms.
The publisher indicated in each case is solely responsible for the press releases above, the event or job offer displayed, and the image and sound material used (see company info when clicking on image/message title or company info right column). As a rule, the publisher is also the author of the press releases and the attached image, sound and information material.
The use of information published here for personal information and editorial processing is generally free of charge. Please clarify any copyright issues with the stated publisher before further use. In the event of publication, please send a specimen copy to
service@pressebox.de
.