Press release BoxID: 95830 (Jetter AG)
Jetter AG
Gräterstraße 2
71642 Ludwigsburg,
de
http://www.jetter.de
Contact person
Martin Buchwitz
+49 (7141) 2550-462

The Compact Motion Genius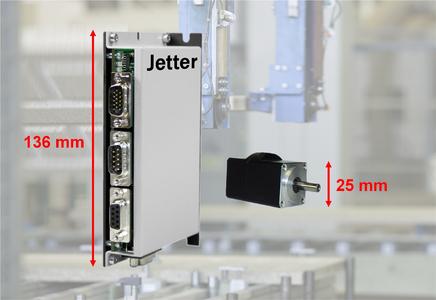 (PresseBox) (
Ludwigsburg

,
)
For low-rating motors of up to 240 Watt, Jetter AG has developed the motion controller JetMove 105. Its enclosure of 136 mm height, 85 mm depth, and 26 mm width is very compact. The smallest motor that can be driven by means of the JetMove 105 has got a torque of 0.003 Nm and a flange size of 25 mm. The JetMove 105 has got the same characteristic feature as all other JetMove motion controllers. All of them have been integrated into the JetControl controllers completely and are intelligible to the user. They are programmed and commissioned by means of the programming software and language of the controller. All standard motor types – starting from the servo motor, the stepper motor and asynchronous motor, up to the linear drive, can be driven by this motion controller. Various technological and special functions as, for example, screw capping functions, make this compact motion controller a multitalented device.
The publisher indicated in each case is solely responsible for the press releases above, the event or job offer displayed, and the image and sound material used (see company info when clicking on image/message title or company info right column). As a rule, the publisher is also the author of the press releases and the attached image, sound and information material.
The use of information published here for personal information and editorial processing is generally free of charge. Please clarify any copyright issues with the stated publisher before further use. In the event of publication, please send a specimen copy to
service@pressebox.de
.