Press release BoxID: 95830 (Jetter AG)
Jetter AG
Gräterstraße 2
71642 Ludwigsburg,
de
http://www.jetter.de
Contact person
Martin Buchwitz
+49 (7141) 2550-462

The Compact Motion Genius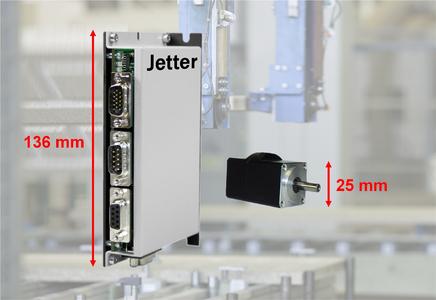 (PresseBox) (
Ludwigsburg

,
)
For low-rating motors of up to 240 Watt, Jetter AG has developed the motion controller JetMove 105. Its enclosure of 136 mm height, 85 mm depth, and 26 mm width is very compact. The smallest motor that can be driven by means of the JetMove 105 has got a torque of 0.003 Nm and a flange size of 25 mm. The JetMove 105 has got the same characteristic feature as all other JetMove motion controllers. All of them have been integrated into the JetControl controllers completely and are intelligible to the user. They are programmed and commissioned by means of the programming software and language of the controller. All standard motor types – starting from the servo motor, the stepper motor and asynchronous motor, up to the linear drive, can be driven by this motion controller. Various technological and special functions as, for example, screw capping functions, make this compact motion controller a multitalented device.
Für die oben stehenden Pressemitteilungen, das angezeigte Event bzw. das Stellenangebot sowie für das angezeigte Bild- und Tonmaterial ist allein der jeweils angegebene Herausgeber (siehe Firmeninfo bei Klick auf Bild/Meldungstitel oder Firmeninfo rechte Spalte) verantwortlich. Dieser ist in der Regel auch Urheber der Pressetexte sowie der angehängten Bild-, Ton- und Informationsmaterialien.
Die Nutzung von hier veröffentlichten Informationen zur Eigeninformation und redaktionellen Weiterverarbeitung ist in der Regel kostenfrei. Bitte klären Sie vor einer Weiterverwendung urheberrechtliche Fragen mit dem angegebenen Herausgeber. Bei Veröffentlichung senden Sie bitte ein Belegexemplar an
service@pressebox.de
.