Press release BoxID: 1063391 (Jakob-Gruppe)
Jakob-Gruppe
Daimlerring 42
63839 Kleinwallstadt,
de
http://www.jakob-gruppe.de
Contact person
Jan Möller
+49 (6022) 2208-55

No vibrations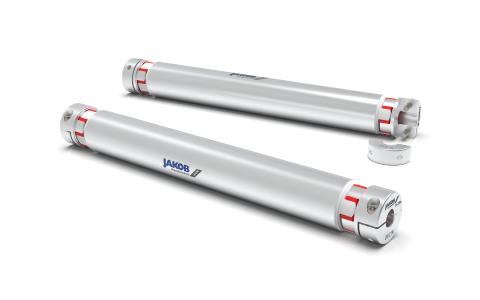 (PresseBox) (
Kleinwallstadt

,
)
In addition to the Simple-Flex, WD, WDS, WDZ und WD-VA series distance couplings, Jakob offers another standard series and customer-specific solution for bridging large center distances: the EKHZ series based on elastomer couplings of the EKH series. The range of application of the EKHZ series is mainly in applications with medium operating speeds. It covers a torque range from 20 to 1600 Nm and allows maximum speeds of 3500 rpm at the minimum length of 50 cm. It is suitable for shaft diameters from 10 to 100 mm. Generally, the achievable maximum length of the EKHZ series is three meters. The EKHZ series makes it possible to reduce vibrations efficiently. The degree of vibration damping can be adjusted by the Shore hardness of the compensation elements. The plastic stars used have two advantages: even without the half-shell design, the couplings can be easily installed because they are pluggable. In addition, the plastic acts thermally and electrically insulating. Due to the properties of the material used, these couplings can only be used up to 90 ° C, whereby the permissible transmission torque is reduced with increasing temperature.
The publisher indicated in each case is solely responsible for the press releases above, the event or job offer displayed, and the image and sound material used (see company info when clicking on image/message title or company info right column). As a rule, the publisher is also the author of the press releases and the attached image, sound and information material.
The use of information published here for personal information and editorial processing is generally free of charge. Please clarify any copyright issues with the stated publisher before further use. In the event of publication, please send a specimen copy to
service@pressebox.de
.