Press release BoxID: 1012522 (Jakob-Gruppe)
Jakob-Gruppe
Daimlerring 42
63839 Kleinwallstadt,
de
http://www.jakob-gruppe.de
Contact person
Jan Möller
+49 (6022) 2208-55

Even more resistant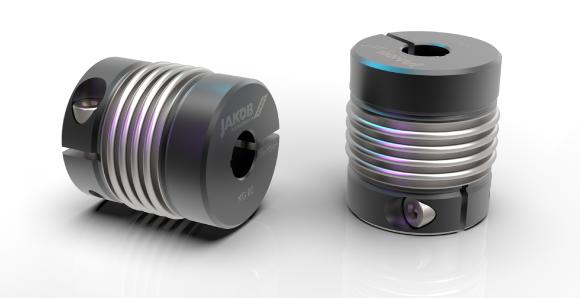 (PresseBox) (
Kleinwallstadt

,
)
The long-proven metal bellows couplings of the 'KG' and 'MKG' series from JAKOB Antriebstechnik have burnished hubs, which offer improved rust protection and greater resistance to environmental influences. This type of surface refinement is not an overlying layer such as nickel plating, chrome plating or painting, but a chemical reaction with the material. The substrate conversion does not change the dimensions and tolerances of the component. The couplings are available for torque ranges from 5 Nm (MKG) to 3000 Nm (KG). They can be used at temperatures from -40 ° C to + 350 ° C. Alternatively, the metal bellows coupling are also available in stainless steel as 'KG-VA' and 'MKG-VA'.
Für die oben stehenden Pressemitteilungen, das angezeigte Event bzw. das Stellenangebot sowie für das angezeigte Bild- und Tonmaterial ist allein der jeweils angegebene Herausgeber (siehe Firmeninfo bei Klick auf Bild/Meldungstitel oder Firmeninfo rechte Spalte) verantwortlich. Dieser ist in der Regel auch Urheber der Pressetexte sowie der angehängten Bild-, Ton- und Informationsmaterialien.
Die Nutzung von hier veröffentlichten Informationen zur Eigeninformation und redaktionellen Weiterverarbeitung ist in der Regel kostenfrei. Bitte klären Sie vor einer Weiterverwendung urheberrechtliche Fragen mit dem angegebenen Herausgeber. Bei Veröffentlichung senden Sie bitte ein Belegexemplar an
service@pressebox.de
.