Digital Signage: Cool! Die itworx-pro GmbH platziert LionDATA Mediaplayer AVX-PROAS und Audio- / Videoverteilungssystem AVX-HDMI-IP-System in Eiscafés

Hamburg

, (PresseBox) -
Der Frühling ist da! Für eine Eiscafé-Kette können nun auch die warmen Temperaturen und der gewünschte Kundenandrang kommen, denn in den Eiscafés ist nun eine optimale Digital Signage Lösung zur Umsatzsteigerung installiert:

Über einen Partner platzierte der Value Added Distributor itworx-pro GmbH den LionDATA Mediaplayer AVX-PROAS und das LionDATA Audio- und Videoverteilungssystem AVX-HDMI-IP-System in Eiscafés. In jeder Filiale der Eiscafé-Kette wurde ein LionDATA Mediaplayer AVX-PROAS hinter einem 42 Zoll Bildschirm installiert. Da in den unterschiedlich großen Filialen drei bis fünf Bildschirme installiert wurden und alle Bildschirme zeitgleich denselben Inhalt anzeigen sollten, wurde hinter dem Mediaplayer AVX-PROAS das ebenfalls von LionDATA stammende Audio- und Video-Verteilungssystem AVX-HDMI-IP angeschlossen.

Somit kann der Betreiber der Eiscafés die Inhalte des Mediaplayers auf beliebig vielen Monitoren anzeigen. Dadurch spart der Endkunde nicht nur Lizenzgebühren für die Content Management Software (bei identischem Inhalt wird pro Standort nur ein Mediaplayer benötigt), sondern hat zudem den Vorteil, dass seine Inhalte völlig zeitsynchron auf den Bildschirmen gezeigt werden.

Die LionDATA Mediaplayer AVX-PROAS sind bei dieser Anwendung per Kabel mit dem Netzwerk verbunden (WLAN / 3G wäre auch möglich). Durch eine webbasierende Content-Management-Software kann die Marketingabteilung der Eiscafé-Kette das gesamte Digital Signage -Netz zentral aus der Ferne über das Internet verwalten.
Der Endkunde hat sich wegen der langjährigen Erfahrung im Projektegeschäft und nach einer erfolgreichen Testphase in einem Pilot-Standort für die Lösung der itworx-pro GmbH mit Hardware von LionDATA entschieden.

Weitere Informationen über die LionDATA Hardware (Mediaplayer, Signboards, Broadcaster, KVM-Extender) , sowie Fallbeispiele zu Projekten mit Digitaler Beschilderung oder KVM, die durch die Mitwirkung von itworx-pro GmbH realisiert wurden, erhalten Sie direkt bei itworx-pro GmbH. Die Kontaktdaten lauten wie folgt: itworx-pro GmbH, Tel. 040-69653770, E-Mail: info@itworx-pro.de, Internet: www.itworx-pro.de
Website Promotion
itworx-pro GmbH
Die itworx-pro GmbH in Hamburg ist ein Marktführer im Bereich der Digital Signage Multimedia Übertragungssysteme, Digital Signage Mediaplayer-Systeme und KVM-Lösungen. Die Produkte verteilen in tausenden von Netzwerken die Bilder zuverlässig und in höchster Qualität auf die Screens über Next-Generation Video-/Audio-/USB-/RS232 Übertragungssysteme und Mediaplayer.

Das hauseigene Technik-Team ist bei vielen europaweiten Digital Signage und KVM Installationen unterstützend beim Kunden vor Ort im Einsatz.

Die itworx-pro GmbH verfügt über Niederlassungen in Hamburg, Neumünster, Istanbul und Barcelona. Das Zentrallager befindet sich in Deutschland. Der Vertrieb zeichnet sich verantwortlich für über 10.000 durch itworx-pro Übertragungssysteme angesteuerte Bildschirme im Bereich des Digital Signage. Die itworx-pro GmbH ist value Added Distributor für die Hersteller LionDATA, Smil-player.de, IAdea, Minicom und Rose Electronics. Zu den Referenzen gehören namhafte DAX-Unternehmen und viele Partner aus dem industriellen Umfeld wie auch viele Kunden aus dem öffentlichen Bereich. Die itworx-pro GmbH ist Mitglied von POPAI (Point Of Purchase Advertising International).
Press releases you might also be interested in
Weitere Informationen zum Thema "Kommunikation":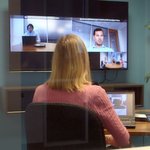 Lifesize integriert Cisco und Polycom
Die Cloud-ba­sier­te Vi­deo­kon­fe­renz­platt­form von Li­fe­si­ze bin­det Po­ly­com- und Cis­co-Sys­te­me nun so ein, dass die­se naht­los mit um­fang­rei­chen Col­la­bo­ra­ti­on-Funk­tio­nen funk­tio­nie­ren. Wei­te­re Up­da­tes sol­len zu­dem Qua­li­tät und Nut­zer­f­reund­lich­keit der Li­fe­si­ze-Lö­sung stei­gern.
Weiterlesen