Press release BoxID: 1063361 (ipc-core GmbH & Co. KG)
ipc-core GmbH & Co. KG
Rainsberg 4
91086 Aurachtal,
de
/redirect/ext?tu=https%3A%2F%2Fipc-core.de&rp=qjRD5dcUVsPQ0RAvdqUX4NuY5SVT9A86u6PtCfja31I
Contact person
Frank Wehringer
091327465800

Intelligente Kraftpakete - ipc-core Industrie-PCs Tiger C-M1 und C-M2
Realisieren Sie Ihre Projekte mit modernster Industrie-PC Technik!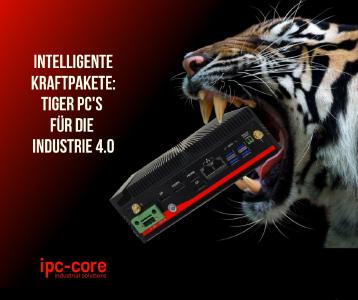 (PresseBox) (
Aurachtal

,
)
Sind Sie auf der Suche nach Industrie-PCs, die für klassische Anwendungen, sowie für hochkomplexe KI-Applikationen konzipiert und dabei richtig robust sind? Die Box-PC Tiger C-M1 und C-M2 Modelle sind echte Kraftpakete und unterstützen Sie bei genau diesen Aufgabenstellungen. Sie lösen umfassende KI-Funktionen auch ohne zusätzliche Grafikkarte und sind besonders konnektiv. So sind bis zu 12 GbE LAN-Schnittstellen möglich, davon bis zu 8 mit Power over Ethernet. Darüber lassen sich zum Beispiel ebenfalls Kameras anschließen, mit denen die Produktionsqualität von Erzeugnissen geprüft wird. Außerdem sind die PCs in den widrigsten Umgebungen einsetzbar: Bei Minusgraden von bis zu -40° bis zu Temperaturen von 60° leisten die Tiger ihre Dienste. Echte Kraftpakete eben!
The publisher indicated in each case is solely responsible for the press releases above, the event or job offer displayed, and the image and sound material used (see company info when clicking on image/message title or company info right column). As a rule, the publisher is also the author of the press releases and the attached image, sound and information material.
The use of information published here for personal information and editorial processing is generally free of charge. Please clarify any copyright issues with the stated publisher before further use. In the event of publication, please send a specimen copy to
service@pressebox.de
.