InfoCom reveals how tough the road to a single European mobile roaming market still is
EC "connected continent" not yet achieved — Only obvious impact of the EC regulation, so far, is the base roaming price — While users benefit from discounted rates, results are less positive in terms of fostering innovation and competition

Stuttgart

, (PresseBox) -
Stuttgart, Germany — Six years after the European Commission initially released the capped price (Eurotariff) for roaming services in the EU, the road to a single European mobile roaming market remains tough. The market is not dynamic in terms of competition and innovations; and revenue generation is lower than expected. With the EC call to achieve the "connected continent", operators are challenged not just to comply with the directive but also to raise the bar in terms of providing innovative, more attractive roaming offers.

Consumer protection, competition and new tariff models are the objectives of the EC as it embarks toward a "connected continent" with the regulated roaming prices for calls, SMS and mobile data. However, since the implementation of the regulation in 2007, there was no perceived significant growth in voice and SMS usage while the growth of data roaming traffic is organic — and related to the proliferation of smartphones and tablets — rather than in-duced by low roaming rates.

Although the roaming landscape is slowly changing, outside and inside the EU, the progress-ive price cuts in SMS, voice and data tariffs did not sufficiently boost the uptake of these services. The popularity of strong substitutes — WiFi, smartphone, VoIP and OTT services — contributed to challenge the usage of traditional roaming services for voice and SMS. Only data traffic kept increasing and providers took advantage of this elastic demand offering larger data allowance or unlimited data services at a competitive price.

So far, the only obvious impact of the EC regulation has been the base price of the roaming services. While the regulation objective is to encourage the diffusion of "Like Home" offers and own alternative roaming tariffs designed by the carriers, there is still very little evidence that these are being patronised by the users. Carriers' designed alternative roaming tariffs in some cases even exceed the capped price. Additionally, a larger volume of outgoing and incoming calls was made through the Eurotariff rather than own alternative roaming tariffs designed by the operators.

As a consequence, while significant reductions in roaming service charges have been im-plemented, these did not substantially change the usage trends of the subscribers, implying, instead, the price inelasticity of the demand. Consequently, while the regulation has indeed forced progressive rate cuts and thus, has favoured the users, it achieved less positive results in terms of fostering innovation and competition, with only a negative effect on providers' revenues. The EC's provision about separate sale of roaming services could be an oppor-tunity for alternative providers to enter into the roaming market, thus creating more competi-tion.

About this extract: This extract in based on an article published on TS&T – Telecom Strategies & Trends, InfoCom's highly analytical publication. This ejournal provides in-depth articles on a wide variety of compelling innovative topics. Each issue contains up-to date rigorous analysis. TS&T is available as an annual on-line subscription providing 24 issues throughout the whole year. If you are interested in this publication, do not hesitate to get in contact with us. Talk to us. We listen.
Website Promotion
InfoCom GmbH
InfoCom is a market research and consultancy company with over 20 years experience providing strategic analyses and planning assistance to stakeholders in the telecommunications, IT and multimedia industries. InfoCom's independent and fact-based analyses highlight trends and opportunities, supporting decision makers to understand market dynamics in order to improve their competitive advantage.


Press releases you might also be interested in
Weitere Informationen zum Thema "Netzwerke":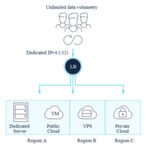 OVH konzipiert Load Balancer neu
Cloud-An­bie­ter OVH hat die Ar­chi­tek­tur sei­nes Last­ver­tei­lers neu kon­zi­piert. Der Load Ba­lan­cer soll nun je­de Art von HTTP-, TCP- und UDP-Traf­fic ver­tei­len.
Weiterlesen