Press release BoxID: 1081045 (iKratos Solar und Energietechnik GmbH)
iKratos Solar und Energietechnik GmbH
Bahnhofstrasse 1
91367 Weißenohe bei Nürnberg,
de
http://www.ikratos.de
Contact person
Sonja Kernstock
+49 (9192) 99280-23

iKratos Hausmesse 2021 - Rückblick
iKratos Hausmesse 2021 - ein voller Erfolg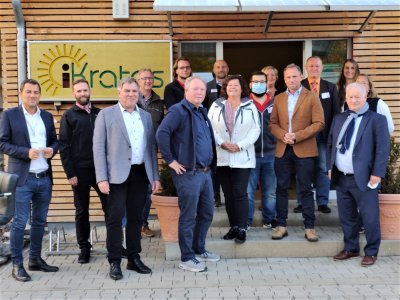 (PresseBox) (
Weißenohe bei Nürnberg

,
)
Am vergangenen Freitag dem 15.10.2021 fand von 14 - 19 Uhr die Hausmesse der iKratos Solar- und Energietechnik GmbH auf dem Firmengelände in Weißenohe statt. Obwohl die Veranstaltung coronabedingt in einer abgespeckteren Version ohne Vorträge stattfinden musste, war sie gut besucht und ein voller Erfolg. Die Interessenten konnten sich rund um die Themen Photovoltaik, Batteriespeicher, Wärmepumpe und Ladestation informieren. Es kamen auch viele bekannte Gesichter, in Form von Bestandskunden, die sich nun für eine Erweiterung oder auch eine Wärmepumpe interessieren. Für Wärmepumpeninteressenten waren die Bestandspartner Panasonic und Bosch, sowie der neue Kooperationspartner NIBE vor Ort. Aber auch die Nachfrage nach Photovoltaikanlagen und Speichersystemen war groß. Der Igensdorfer Bürgermeister Edmund Ulm, sowie der Weißenoher Bürgermeister Herr Rudolf Braun sind der Einladung zur Hausmesse gefolgt. Als Überraschungsgast kam dann noch der iKratos Kunde und bayerische Umweltminister T horsten Glauber für Gespräche vorbei.
The publisher indicated in each case is solely responsible for the press releases above, the event or job offer displayed, and the image and sound material used (see company info when clicking on image/message title or company info right column). As a rule, the publisher is also the author of the press releases and the attached image, sound and information material.
The use of information published here for personal information and editorial processing is generally free of charge. Please clarify any copyright issues with the stated publisher before further use. In the event of publication, please send a specimen copy to
service@pressebox.de
.