Press release BoxID: 1062920 (iKratos Solar und Energietechnik GmbH)
iKratos Solar und Energietechnik GmbH
Bahnhofstrasse 1
91367 Weißenohe bei Nürnberg,
de
http://www.ikratos.de
Contact person
Sonja Kernstock
+49 (9192) 99280-23

Markt Eckental investiert weiter in Photovoltaik
Neue Photovoltaikanlage für den Jugendtreff und Familienstützpunkt "Gleis 3" in Eschenau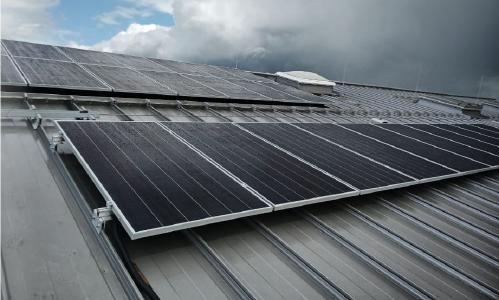 (PresseBox) (
Weißenohe bei Nürnberg

,
)
Der Jugendtreff und Familienstützpunkt "Gleis 3" in Eschenau ist nun Danke Photovoltaikanlage bestens für den Sommer gerüstet. Mitte Mai wurde auf dem Gebäude eine 10,08 kWp große Photovoltaikanlage installiert. Da das Gleis 3 eine gemeindliche Einrichtung des Marktes Eckental ist, wurde die Photovoltaikanlage auch vom Markt initiiert und in Auftrag gegeben. Der Jugendtreff und Familienstützpunkt ist ein Treffpunkt für Familien, Kinder und Jugendliche, der neben gemütlichen Räumlichkeiten auch Kurse, Workshops, Party's, Ferienprogramm und vieles mehr anbietet. Für alle Altersgruppen gibt es wöchentliche feste Öffnungszeiten mit tollen kostenfreien Angeboten. Da im Gleis somit eigentlich immer was los ist, vor allem auch tagsüber wird relativ viel Strom benötigt, und diesen kann der Jugendtreff nun in Zukunft teilweise selbst produzieren. Dank der besonders leistungsstarken SunPower Module mit bis zu 420 Watt Peak pro Modul, kann eine kleine Fläche möglichst viel Strom erzeugen, somit bleibt noch genug Platz für eventuelle Erweiterungen. Für den Markt Eckental ist dies nun bereits die 3. Photovoltaikanlage in Kooperation mit dem regionalen Unternehmen iKratos. Und man hofft natürlich auf weitere tolle Projekte.
The publisher indicated in each case is solely responsible for the press releases above, the event or job offer displayed, and the image and sound material used (see company info when clicking on image/message title or company info right column). As a rule, the publisher is also the author of the press releases and the attached image, sound and information material.
The use of information published here for personal information and editorial processing is generally free of charge. Please clarify any copyright issues with the stated publisher before further use. In the event of publication, please send a specimen copy to
service@pressebox.de
.