Press release BoxID: 958364 (ICP Deutschland GmbH)
ICP Deutschland GmbH
Mahdenstr. 3
72768 Reutlingen,
de
http://www.icp-deutschland.de
Contact person
Vanessa Kluge
+49 (7121) 14323-52

TANK-620 - Interface miracle for machine control
Fanless embedded PC for 24/7 continuous operation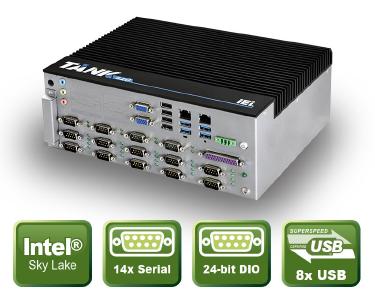 (PresseBox) (
Reutlingen

,
)
In machine control, road traffic control and robotics, the demand for versatile analog interfaces is almost limitless. The new fanless Embedded PC TANK-620 from the proven TANK series from ICP Germany was designed for this field of application. The interface miracle has six RS-232, eight RS-422/485 and four USB 2.0/3.0 ports each. The 14 COM ports are equipped with TX/RX signal LEDs so that the current data transmission can be displayed. In addition, two GbE LAN interfaces and 12 digital inputs and 12 digital outputs are available at the front. Inside the compact 260x200x100mm housing is an Intel® Celeron® 3855U processor with 4GB DDR4 on-board memory, which can be expanded up to 32GB. As standard, the TANK-620 has two VGA in Full-HD resolution for parallel image output. A third optional screen output is provided as VGA or LVDS interface. On the one hand, two easily accessible 2.5" SATA 6Gb/s hard disk bays, an M.2 slot and an optional CF card slot are available for mass storage. The TANK-620 can be flexibly expanded via two full-size PCIe mini slots, e.g. with a suitable WiFi kit incl. Bluetooth 4.0. Wall mounting is provided for the TANK-620. Due to its vibration resistance according to MIL-STD-810G and its operating temperature of -30°C~+70°C, the Embedded PC is ideally suited for 24/7 continuous operation. Upon customer request, ICP assembles the TANK-620 with the desired operating system and suitable industrial components
The publisher indicated in each case is solely responsible for the press releases above, the event or job offer displayed, and the image and sound material used (see company info when clicking on image/message title or company info right column). As a rule, the publisher is also the author of the press releases and the attached image, sound and information material.
The use of information published here for personal information and editorial processing is generally free of charge. Please clarify any copyright issues with the stated publisher before further use. In the event of publication, please send a specimen copy to
service@pressebox.de
.