Press release BoxID: 1076973 (Hochschule Bremen)
Hochschule Bremen
Neustadtswall 30
28199 Bremen,
de
http://www.hs-bremen.de
Contact person
Ulrich Berlin
+49 (421) 5905-2245

Dr. Jana Molle zur Professorin für "Beratung in der Sozialen Arbeit" ernannt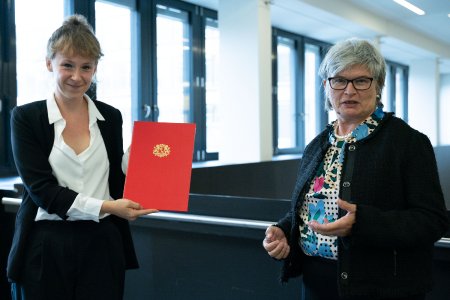 (PresseBox) (
Bremen

,
)
Am 1. Oktober 2021 tritt Dr. Jana Molle ihre Professur an der Hochschule Bremen an. In der Fakultät Gesellschaftswissenschaften vertritt sie das Fachgebiet "Beratung in der Sozialen Arbeit". Vor ihrem Ruf an die Weser war Jana Molle Professorin für Theorien und Methoden der Sozialen Arbeit an der Dualen Hochschule Baden-Württemberg am Standort Stuttgart tätig. Darüber hinaus hatte sie dort die Studiengangsleitung für den Bereich "Arbeit - Integration - Soziale Sicherung" des Bachelor-Studiengangs Soziale Arbeit inne. 2019 schloss Jana Molle ihre Promotion zur Doktorin der Philosophie im Rahmen eines Kooperativen Graduiertenkollegs der HAW Hamburg und der Universität Hamburg ab.
The publisher indicated in each case is solely responsible for the press releases above, the event or job offer displayed, and the image and sound material used (see company info when clicking on image/message title or company info right column). As a rule, the publisher is also the author of the press releases and the attached image, sound and information material.
The use of information published here for personal information and editorial processing is generally free of charge. Please clarify any copyright issues with the stated publisher before further use. In the event of publication, please send a specimen copy to
service@pressebox.de
.