Calculation Solutions for Mechanical Engineering at Hannover Messe
At this year's Hannover Messe, GWJ Technology presents their software solutions for mechanical engineering together with its partners MESYS AG and DELTA JS in Hall 25, Booth A23

Braunschweig

, (PresseBox) -
At this year´s Hannover Messe, GWJ Technology presents their software solutions for mechanical engineering together with its partners MESYS AG and DELTA JS in Hall 25, Booth A23.

Focusing on mechanical engineering, GWJ Technology, based in Braunschweig, Germany, stands for high-quality products and professional software development for the mechanical engineering to support engineers and designers in their daily work.

The GWJ product range of innovative calculation software is wide - from standard software for classical machine elements with 3D CAD integration modules to the determination of whole systems up to a complex special software for 5-axis milling of gears. There are common features that all GWJ solutions share - intuitive design, sleek interface, easy to use and suitable applications for all users from beginner to very advanced. GWJ is also committed to providing high-quality customer services including engineering services and topic-oriented workshops.

The web-based eAssistant software allows for a fast, easy and professional calculation, design and optimization of an extensive range of machine elements like shafts, gears, bolted joints or bearings etc. If the user prefers a traditional ʺofflineʺ software, the user can choose the TBK, the ʺofflineʺ equivalent of the eAssistant. 3D CAD integration modules create a seamless connection between calculation and design. Furthermore, the SystemManager software enables the user to configure and determine complex systems, such as multi-stage gearboxes or power-split transmissions, without much effort and with just a few mouse clicks.

The TBK Manufacturing Suite is the powerful solution for the calculation of the real 3D geometry of gears and provides the ideal basis to manufacture cylindrical and bevel gears in conjunction with multi-axis machining centers. This software calculates the gear tooth form based on a mathematical simulation of the manufacturing process analogous to traditional manufacturing on gear cutting machines. This leads to a real 3D gear tooth geometry and thus provides a comparable strength and running behaviour identical to conventionally manufactured gears. The combination of GWJ´s expertise coupled with a global partner network for CAM, tools, machines and metrology provides a compelling solution that offers the flexibility to manufacture gears on multi-axis CNC machining centers.

MESYS AG based in Zurich/Switzerland develops standard software for the calculation of bearings and ball screws. MESYS software is currently used by customers from 25 countries on 4 continents. The software solutions consider the inner geometry and the load distribution within the bearing. Further products are available for non-linear bearing stiffness and 3D elastic housings and shafts for GWJ´s SystemManager.

The service range of GWJ and MESYS is completed by the DELTA JS AG. The program MADYN 2000, developed and offered by DELTA JS, is a leading software for rotordynamics. Customers in the whole world trust the proven products for the dynamic dimensioning of rotor-gear-bearing systems. DELTA JS also offers engineering and consulting services in the field of rotordynamics.

For more information, please contact GWJ by telephone +49 (0) 531 / 129 399-0 or email info@gwj.de or visit our webpage www.gwj.de.
Website Promotion
GWJ Technology GmbH
Focusing on mechanical engineering, GWJ Technology, a leading engineering company with its headquarter in Braunschweig, Germany, stands for high quality products and innovative software development. With keen insight, high energy and an enthusiastic team of engineers, we put our utmost efforts, skills, knowledge and passion into our work to achieve top quality products. Our portfolio includes the development of standard calculation software for machine elements, such as shafts, rolling bearings, cylindrical gears, bevel gears, etc. To increase the efficiency in the design process and to combine calculation and CAD, we provide CAD plugins for various 3D CAD systems. Our software solutions are designed with a sleek user interface, making it easier than ever to design or re-calculate machine elements. Additionally, we have geared our company to offer a special software application for the determination of real 3D tooth form geometries of complex gears. The tooth form is the basis for a 3D model to manufacture gears in conjunction with multi-axis machining centers. The software opens completely new possibilities for engineering.
Press releases you might also be interested in
Weitere Informationen zum Thema "Maschinenbau":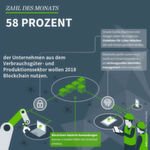 58 Prozent der Unternehmen wollen Blockchain nutzen
Die Mehr­heit der Un­ter­neh­men aus dem Ver­brauchs­gü­ter- und Pro­duk­ti­ons­sek­tor ist da­von über­zeugt, dass die Block­chain-Tech­no­lo­gie zu den viel­ver­sp­re­chends­ten In­no­va­tio­nen ge­hört und das Po­ten­zial hat, Wirt­schaft und Ge­sell­schaft tief­g­rei­fend zu ve­r­än­dern.
Weiterlesen