Press release BoxID: 786165 (GEZE GmbH)
GEZE GmbH
Reinhold-Vöster-Str. 21-29
71229 Leonberg,
de
http://www.geze.com
Contact person
Ellen Schellinger
+49 (7152) 203-536

Ventilation made easy - the ECchain chain drive / The convenient introductory model for private residential buildings
GEZE at FENSTERBAU FRONTALE 2016 - The trade show. Windows. Door. Facade / 16 - 19 March 2016, NürnbergMesse, Nuremberg, Hall 2, Stand 2-424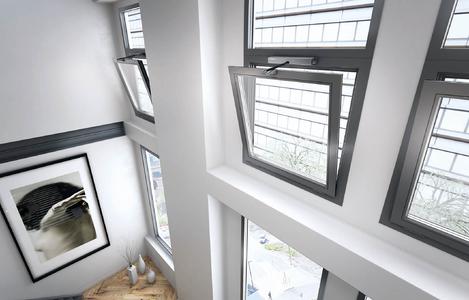 (PresseBox) (
Leonberg

,
)
Whether an apartment or a house: accessibility and comfort are becoming increasingly important inside your own four walls. GEZE offers automated ventilation "with design" with 230 volt using the ECchain chain drive. With a good price-performance ratio, the chain drive is a simple automation option for bottom-hung, top-hung and side-hung windows. The ECchain can also be used on small fanlights and achieves a maximum opening angle even for very small leaf heights. With various possibilities for stroke adjustment, it can be adapted to different ventilation requirements. The ECchain can be installed on standard profile systems made from wood, plastic or aluminium. Different colour options allow for optimum adjustment to existing window profiles. Universal fixtures and brackets allow for flexible installation for different window types.
Für die oben stehenden Pressemitteilungen, das angezeigte Event bzw. das Stellenangebot sowie für das angezeigte Bild- und Tonmaterial ist allein der jeweils angegebene Herausgeber (siehe Firmeninfo bei Klick auf Bild/Meldungstitel oder Firmeninfo rechte Spalte) verantwortlich. Dieser ist in der Regel auch Urheber der Pressetexte sowie der angehängten Bild-, Ton- und Informationsmaterialien.
Die Nutzung von hier veröffentlichten Informationen zur Eigeninformation und redaktionellen Weiterverarbeitung ist in der Regel kostenfrei. Bitte klären Sie vor einer Weiterverwendung urheberrechtliche Fragen mit dem angegebenen Herausgeber. Bei Veröffentlichung senden Sie bitte ein Belegexemplar an
service@pressebox.de
.