Press release BoxID: 399689 (GEZE GmbH)
GEZE GmbH
Reinhold-Vöster-Str. 21-29
71229 Leonberg,
de
http://www.geze.com
Contact person
Ellen Schellinger
+49 (7152) 203-536

Clip cover 100 to conceal the GEZE Rollan and GEZE Perlan interior sliding door systems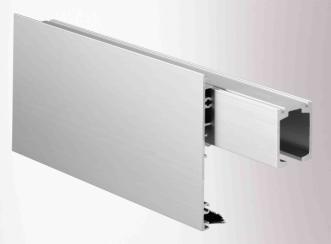 (PresseBox) (
Leonberg

,
)
The new clip cover 100 with a construction height of just 100 millimetres enables an optically attractive facing to be installed over the fixings. The application is made simply and securely using plastic clips which ensure reliable fixing of the facing regardless of the application. Any tolerances in the aluminium profiles can be evened out using this method. It is possible to apply different spacing to the runners to suit the needs of glass and wooden doors. When using glass doors, the clip cover is clipped directly into the runner, when using wooden doors they are clipped into the additional spacer brackets which are screwed onto the runner. The clip cover means that the gap visible from below when using glass doors can be kept as small as possible, but the same product can still be used for thick wooden doors. The colour can be adapted to suit the construction requirements, in EV1, stainless steel or in RAL colours.
Für die oben stehenden Pressemitteilungen, das angezeigte Event bzw. das Stellenangebot sowie für das angezeigte Bild- und Tonmaterial ist allein der jeweils angegebene Herausgeber (siehe Firmeninfo bei Klick auf Bild/Meldungstitel oder Firmeninfo rechte Spalte) verantwortlich. Dieser ist in der Regel auch Urheber der Pressetexte sowie der angehängten Bild-, Ton- und Informationsmaterialien.
Die Nutzung von hier veröffentlichten Informationen zur Eigeninformation und redaktionellen Weiterverarbeitung ist in der Regel kostenfrei. Bitte klären Sie vor einer Weiterverwendung urheberrechtliche Fragen mit dem angegebenen Herausgeber. Bei Veröffentlichung senden Sie bitte ein Belegexemplar an
service@pressebox.de
.