Press release BoxID: 120728 (GES High Voltage, Inc.)
GES High Voltage, Inc.
98 Cuttermill Rd, Suite 258
11021 Great Neck,
us
http://www.ges-highvoltage.com
Contact person
Helmut Ammon
0049 (0)8165-9502-13

Pneumatic-Module for Hybrid Industrial Connectors
resistant against more than 100 chemicals, fuels, oils and gases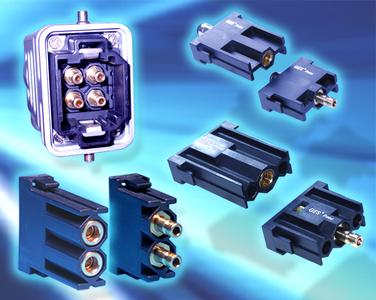 (PresseBox) (
Eching / Germany

,
)
The pneumatic modules from GES Electronic & Service enable the transportation of gases and fluids in durable industrial environments. The modules perform an operating pressure of up to 10 bar (145 psi) and are available in three versions: the standard-module AirLiquid, a version with push/pull hose-connection mechanism (PushPull) and a version with check valves on both sides (TwinValve) and can be equipped with one or two pneumatic brass-nipples per connection. The fibreglass-strengthened PA6.6 module-housing enables operating temperatures from -20°C to +100°C and is in accordance to UL94-VO. Depending to customer needs the modules can be equipped with o-rings made of FKM (Flurocarbon rubber), NBR (Nitrile Butadiene Rubber) or EPDM (Ethylene Propylene Diene Monomer rubber). These sealing materials ensure resistance against more than 100 chemicals, fuels, oils and gases - from A like Acetone to X like Xylene. The modules are inserted into a fixation frame and then into an IP65 cast steel-housing available in different sizes with a wide variety of locking-systems, cable-entries and –glands. A maximum of seven modules can be placed in one housing adding up 14 pneumatic connections per system. Alternatively the system can also be equipped with other modules for energy- and/or data transmission to enable hybrid applications. Rugged, flexible and reliable these modules present an advanced solution for industrial applications and are fully compatible to the worldwide common systems Amphenol C146M, Lapp Contact EPIC MC, Walther Werke Procon MO, Weidmüller ConCept and Wieland revos FLEX.
Für die oben stehenden Pressemitteilungen, das angezeigte Event bzw. das Stellenangebot sowie für das angezeigte Bild- und Tonmaterial ist allein der jeweils angegebene Herausgeber (siehe Firmeninfo bei Klick auf Bild/Meldungstitel oder Firmeninfo rechte Spalte) verantwortlich. Dieser ist in der Regel auch Urheber der Pressetexte sowie der angehängten Bild-, Ton- und Informationsmaterialien.
Die Nutzung von hier veröffentlichten Informationen zur Eigeninformation und redaktionellen Weiterverarbeitung ist in der Regel kostenfrei. Bitte klären Sie vor einer Weiterverwendung urheberrechtliche Fragen mit dem angegebenen Herausgeber. Bei Veröffentlichung senden Sie bitte ein Belegexemplar an
service@pressebox.de
.