Press release BoxID: 201078 (GES High Voltage, Inc.)
GES High Voltage, Inc.
98 Cuttermill Rd, Suite 258
11021 Great Neck,
us
http://www.ges-highvoltage.com
Contact person
Markus Fesl
+49 (8165) 9502-30

High Voltage Connectors according to customer preferences
up to 15kV DC / 30 A incl. earth- and/or signalcontacts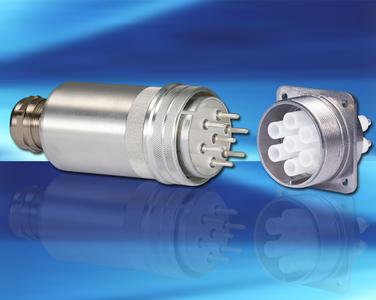 (PresseBox) (
Eching / Germany

,
)
The multi-pin High Voltage Connectors of Series-M from GES Electronic & Service are anchored in a firm nickel plated brass housing and are designed for operating voltages up to 15kV DC at 30A. A connection can be equipped with up to nine coded 2.7mm AG-contacts that resist up to 100.000 mating cycles. Both sides of the connection can be configured as plug or socket while cable-sockets can be angled and equipped with an EMC-gland bushing. One or more leading contacts can be assigned to execute a starting sequence, as earth connection or to confirm a safety loop. Series-M is in accordance to the UL94-HB flammability standard; insulation sleeves are available in POM or PTFE. GES manufactures and assembles this series according to customer preferences only. Typical applications are found in analysis- and radiation technologies, medical-, measuring- and testing-equipment as well as for power-supply devices and –circuits.
Für die oben stehenden Pressemitteilungen, das angezeigte Event bzw. das Stellenangebot sowie für das angezeigte Bild- und Tonmaterial ist allein der jeweils angegebene Herausgeber (siehe Firmeninfo bei Klick auf Bild/Meldungstitel oder Firmeninfo rechte Spalte) verantwortlich. Dieser ist in der Regel auch Urheber der Pressetexte sowie der angehängten Bild-, Ton- und Informationsmaterialien.
Die Nutzung von hier veröffentlichten Informationen zur Eigeninformation und redaktionellen Weiterverarbeitung ist in der Regel kostenfrei. Bitte klären Sie vor einer Weiterverwendung urheberrechtliche Fragen mit dem angegebenen Herausgeber. Bei Veröffentlichung senden Sie bitte ein Belegexemplar an
service@pressebox.de
.