Press release BoxID: 565900 (GEMÜ Gebr. Müller Apparatebau GmbH & Co. KG)
GEMÜ Gebr. Müller Apparatebau GmbH & Co. KG
Fritz-Müller-Straße 6-8
74653 Ingelfingen-Criesbach,
de
http://www.gemu-group.com
Contact person
Eva Zink
+49 (7940) 123-708

More compact and reasonable than its predecessor: GEMÜ R647
The GEMÜ 647 2/2-way plastic valve has been revised and is now available as R647 with optimized body geometry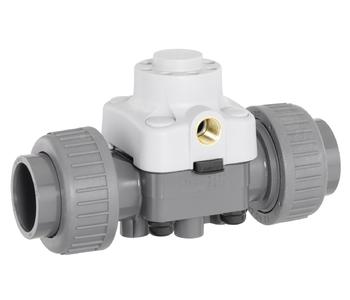 (PresseBox) (
Ingelfingen-Criesbach

,
)
The valve is especially suited - like its predecessor - to use in dyeing plants, in automatic animal feeding installations or for use in the paper industry. In addition, GEMÜ R647 will be used wherever there is no need for a closing spring, or where the installation conditions require small components. One benefit of the new type is the similarly high Kv value with a smaller actuator size. The R647 is therefore more compact and reasonably priced than its predecessor. The valve can also be supplied in an intermediate size, the new diaphragm size 20. This new feature also means that additional space and cost savings are possible in plastic piping systems.
Für die oben stehenden Pressemitteilungen, das angezeigte Event bzw. das Stellenangebot sowie für das angezeigte Bild- und Tonmaterial ist allein der jeweils angegebene Herausgeber (siehe Firmeninfo bei Klick auf Bild/Meldungstitel oder Firmeninfo rechte Spalte) verantwortlich. Dieser ist in der Regel auch Urheber der Pressetexte sowie der angehängten Bild-, Ton- und Informationsmaterialien.
Die Nutzung von hier veröffentlichten Informationen zur Eigeninformation und redaktionellen Weiterverarbeitung ist in der Regel kostenfrei. Bitte klären Sie vor einer Weiterverwendung urheberrechtliche Fragen mit dem angegebenen Herausgeber. Bei Veröffentlichung senden Sie bitte ein Belegexemplar an
service@pressebox.de
.