Cooling systems – low maintenance and eco-friendly
Steam jet cooling systems only require water or aqueous solutions instead of chemical cooling agents. Instead of high-value electricity, low-pressure steam (waste steam) can be used for the operation

Ettlingen

, (PresseBox) -
In autumn 2005, a steam jet cooling plant was taken into operation within an EO/EG process unit of a big chemical company in China. It has been operated continuously for more than seven years without requiring any shut-down of the plant for maintenance purpose. Water steam under a slight overpressure (waste steam) is used as drive energy for this plant. Apart from the drive energy the steam jet cooling system requires relatively warm cooling water (37°C). With the cooling system a refrigerating capacity of 16,450 kW can be generated. In this case, 1,572 m³/h of water are cooled from 29 °C to 20 °C.

This chilled water is used to optimize the EO/EG production in particular during summer periods when the cooling water is relatively warm. If no cooled water was available, production would have to be stopped, or, even worse, the systems would have to be shut-down.

Steam jet cooling systems can be an extremely environmental-friendly alternative to absorption cooling systems, as they only require water or aqueous solutions instead of chemical cooling agents. Instead of high-value electricity, low-pressure steam (waste steam) can be used for the operation of such systems. For this reason, the operating expenses are extremely low compared to other technological systems.

Steam jet cooling systems are used to cool water or aqueous solutions down to the formation of ice. The structure and function of these systems is simple, and they perform a nearly maintenance-free operation.

Steam jet cooling systems are applied for the generation of cold water in the field of air-conditioning and for product cooling in the food industry, chemical industry, synthetic material and pulp industries and for direct product of e.g. moulding sand, colours and crystal slurry.

GEA Wiegand is an Alliance Member of the blue competence initiative of VDMA and with our extraordinarily energy-efficient plants we offer a clear added value to our customers.
Website Promotion
GEA Wiegand GmbH
GEA Group Aktiengesellschaft is one of the largest suppliers of process technology and components for the food and energy industries. As an international technology group, the Company focuses on sophisticated production processes.

In 2013, GEA generated consolidated revenues of about EUR 5.8 billion, 70 percent of which came from the food and energy sectors, which are long-term growth industries. The group employed about 25,000 people worldwide as of December 31, 2013. GEA Group is a market and technology leader in its business areas. The company is listed in the MDAX index (G1A, WKN 660200). In addition GEA Group has a sponsored level I ADR program in the USA. Further information is available on the Internet at: www.gea.com.

Press releases you might also be interested in
Weitere Informationen zum Thema "Produktionstechnik":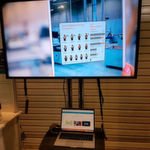 Das bietet Indoor Navigation kombiniert mit AR
In­s­i­der Re­se­arch im Ge­spräch mit In­s­i­der Na­vi­ga­ti­on: Auf dem Du­b­lin Tech Sum­mit traf Oli­ver Schon­schek von In­s­i­der Re­se­arch Cle­mens Kir­ner, Aug­men­ted-Rea­li­ty-Ex­per­te und Grün­der von In­s­i­der Na­vi­ga­ti­on.
Weiterlesen