New Fujitsu PRIMERGY TX100 S3 Servers Deliver Cost-effective Computing for Small Businesses
Simple to manage performance brings benefits of Intel® Xeon® processors to entry level servers

Regensdorf

, (PresseBox) -
Fujitsu today introduces two new PRIMERGY servers providing all-around entry-level solutions for small businesses: the PRIMERGY TX100 S3 Standard and PRIMERGY TX100 S3 Core Edition. Both models are designed to help customers maximize business efficiency by combining special system functionality and system performance with ongoing ease of management.

Based on Intel's newly-available Intel® Xeon® processor E3 family, both the Standard and Core Edition versions of the PRIMERGY TX100 S3 provide a complete package for small businesses, offering an excellent price/performance ratio and high levels of energy efficiency.

The PRIMERGY TX100 S3 Standard Edition is ideally suited to SMBs who need a server to handle file, print, web and office applications. It combines improved processor performance and expandable memory with the Microsoft Windows Small Business Server Essentials 2011 operating system, which is simple to manage. The server provides new standards in entry-level IT system availability, enabling 24x7 business, with data protection further enhanced by an optional battery backup unit in case of unplanned system downtime.

The «headless» PRIMERGY TX100 S3 Core Edition is a tower server aimed at small businesses who do not want to struggle with complex IT administration. Headless technology means that the Core Edition does not need its own monitor, keyboard or mouse but can be easily and seamlessly administered from any PC on a network using standard Remote Desktop technology, reducing necessary space and consequently keeping down cost. To further increase ease of use the TX100 S3 Core Edition is backed by a simple, intuitive administration that can be mastered even by a non-technical administrator. Fujitsu's innovative 'Just power-up 'n' run' technology dramatically reduces management complexity, time and cost for new owners, since the Microsoft Windows® 2008 R2 Foundation operating system comes pre-installed. For added resilience, Fujitsu has added self-healing software, allowing the PRIMERGY TX100 S3 Core edition to automatically detect and correct errors found during the boot phase.

Both PRIMERGY TX100 S3 models share capabilities that reduce operating costs and noise as well as increasing efficiency. Energy consumption is dramatically lower than competing systems, reaching 94 percent efficiency in operation and through Fujitsu's 0-Watt functionality, drawing no power at all when enabled while still allowing an administrator to carry out maintenance tasks. Both models use halogen-free printed circuit boards to further minimize their environmental impact and additionally produce minimal noise disturbance.

Says Jens-Peter Seick, Senior Vice President, Product Development Group at Fujitsu Technology Solutions: «Since its introduction, the PRIMERGY TX100 range has proven to be very popular with small businesses since it provides tailored IT to cost-effectively run operations. The injection of new, more powerful Intel Xeon processors delivers enhanced functionality that will directly help small businesses do more with less by entering the world of PRIMERGY TX servers.»

Fujitsu's PRIMERGY TX100 S3 and TX100 S3 Core Edition are now available globally. Pricing and availability vary by region and configuration, starting below 1000 CHF incl. VAT with a starter-configuration.

Technical Specifications:

PRIMERGY TX100 S3 Standard Edition
- Choice of Intel® Xeon® E3-1200 (quad-core), Pentium® Celeron®, Core i3® processors
- Up to 32Gb of RAM
- 2x1 Gb LAN onboard
- LSI RAID 0/1 onboard, optional SATA RAID 5/6 with battery backup
- Up to 4 HDDs
- iSCSI boot support

PRIMERGY TX100 S3 Core Edition
- Choice of Intel® Xeon® E3-1200 (quad-core), Pentium® Celeron®, Core i3® processors
- Up to 8Gb of RAM
- 2x1 Gb LAN onboard
- LSI RAID 0/1 onboard
- Up to 4 HDDs
- Windows Server Foundation 2008 R2 pre-installed
- Easy to use Headless Recovery Manager
Fujitsu Technology Solutions GmbH
Fujitsu Technology Solutions is the leading European IT infrastructure provider with a presence in all key markets in Europe, the Middle East and Africa, plus India, serving large-, medium- and small-sized companies as well as consumers. With its Dynamic Infrastructures approach, the company offers a full portfolio of IT products, solutions and services, ranging from clients to datacenter solutions, Managed Infrastructure and Infrastructure as a Service. Fujitsu Technology Solutions employs more than 13,000 people and is part of the global Fujitsu Group. For more information, please see: http://ch.ts.fujitsu.com/....

All other company or product names mentioned herein are trademarks or registered trademarks of their respective owners. Information provided in this press release is accurate at time of publication and is subject to change without advance notice.

About Fujitsu

Fujitsu is a leading provider of information and communication technology (ICT)-based business solutions for the global marketplace. With approximately 170,000 employees supporting customers in over 100 countries, Fujitsu combines a worldwide corps of systems and services experts with highly reliable computing and communications products and advanced microelectronics to deliver added value to customers. Headquartered in Tokyo, Fujitsu Limited (TSE:6702) reported consolidated revenues of 4.5 trillion yen (US$55 billion) for the fiscal year ended March 31, 2011. For more information, please see: www.fujitsu.com.
Press releases you might also be interested in
Weitere Informationen zum Thema "Hardware":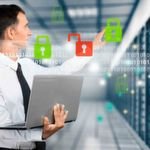 Die fünf wichtigsten Kriterien für ein Next Generation Datacenter
Un­ter­neh­men müs­sen ein­mal mehr neue We­ge fin­den, wie sie Kun­den für sich ge­win­nen. Die Ge­schäfts­ent­wick­lung er­folgt heu­te nicht mehr li­near. Statt­des­sen kön­nen sich Chan­cen je­der­zeit aus al­len Rich­tun­gen auf­tun. Mit ei­nem tra­di­tio­nel­len Re­chen­zen­trum kann die be­nö­t­ig­te Fle­xi­bi­li­tät nicht her­ge­s­tellt wer­den. Ein Mi­kro­re­chen­zen­trum ist der Aus­weg.
Weiterlesen