Fujitsu's New Premium Selection Makes it Easy to Select the Best
New channel configurations provide top-of-the-line Fujitsu LIFEBOOK notebooks, Fujitsu ESPRIMO PCs, and Fujitsu CELSIUS workstations
Regensdorf

, (PresseBox) -
For customers where only the best will do, Fujitsu today introduces for the first time a special selection of LIFEBOOK notebook configurations for channel partners which complete the Fujitsu premium selection lineup. Now featuring high-end Fujitsu LIFEBOOK notebooks, ESPRIMO PCs and CELSIUS workstations, the premium selection is available exclusively for Fujitsu channel partners as part of the value4you program.

The premium selection is designed to help end customers easily distinguish and choose the highest possible system specifications, offering competitively-priced, factory-configured Fujitsu computing products for the workplace that pick the best from every option. Every model also ships with a valuable bundle of software applications.

The Fujitsu premium selection line LIFEBOOK notebooks, ESPRIMO desktops and CELSIUS workstations come with factory-standard range-topping specifications such as additional system memory, high-speed solid state drives (SSDs) and ultra-fast processors, plus NVIDIA graphics in CELSIUS workstations. No detail is overlooked; premium selection desktop systems come complete with an elegant spill-resistant Fujitsu KB900 keyboard and the stylish Fujitsu GL9000 laser mouse.

In introducing the premium selection, Fujitsu is enabling its channel partners to tap into growing market demand for feature-rich, high-performance IT equipment such as the recently-introduced LIFEBOOK P771 ultra-portable notebook, the stylish ESPRIMO Q900 mini PC and the portable new 17-inch CELSIUS H910 mobile workstation. Depending on the local market, customers can choose from up to 13 different premium selection systems.

Channel manager says: «In our ongoing attempt to make life easier for our SELECT Partner Program members, and to give them opportunities for growth, Fujitsu has developed the premium selection. This introduces great value high-end configurations across the board, enabling Fujitsu partners to offer their customers special and exclusive products, as well as boosting margins thanks to choosing factory-configured systems.»

To make marketing the premium selection as easy as possible for partners, Fujitsu provides a range of supporting tools including a presentation, a backgrounder, custom premium selection data sheets, plus advertising and banner templates.

The Fujitsu premium selection is available via Fujitsu channel partners in the CEMEA&I region (Continental Europe, Middle East, Africa & India). Pricing varies according to country.

Product Details:

Full information about the premium selection is online at: http://ts.fujitsu.com/...

Partner promotion page: https://partners.ts.fujitsu.com/... Images of selected premium selection products can be found online at:

For further information, please see:
Blog: http://blog.ts.fujitsu.com/
Twitter: http://www.twitter.com/...
Facebook: http://www.facebook.com/...
Fujitsu Technology Solutions GmbH
Fujitsu Technology Solutions is the leading European IT infrastructure provider with a presence in all key markets in Europe, the Middle East and Africa, plus India, serving large-, medium- and small-sized companies as well as consumers. With its Dynamic Infrastructures approach, the company offers a full portfolio of IT products, solutions and services, ranging from clients to datacenter solutions, Managed Infrastructure and Infrastructure as a Service. Fujitsu Technology Solutions employs more than 13,000 people and is part of the global Fujitsu Group. For more information, please see: http://ch.ts.fujitsu.com/....

All other company or product names mentioned herein are trademarks or registered trademarks of their respective owners. Information provided in this press release is accurate at time of publication and is subject to change without advance notice.

About Fujitsu

Fujitsu is a leading provider of information and communication technology (ICT)-based business solutions for the global marketplace. With approximately 170,000 employees supporting customers in over 100 countries, Fujitsu combines a worldwide corps of systems and services experts with highly reliable computing and communications products and advanced microelectronics to deliver added value to customers. Headquartered in Tokyo, Fujitsu Limited (TSE:6702) reported consolidated revenues of 4.5 trillion yen (US$55 billion) for the fiscal year ended March 31, 2011. For more information, please see: www.fujitsu.com.
Press releases you might also be interested in
Weitere Informationen zum Thema "Hardware":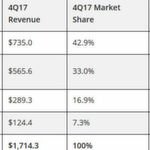 Umsatz konvergenter Systeme legt weltweit zu
Nach An­ga­ben der In­ter­na­tio­nal Da­ta Cor­po­ra­ti­on (IDC) ver­mel­de­te der "World­wi­de Quar­t­er­ly Con­ver­ged Sys­tems Tra­cker" für das vier­te Quar­tal 2017 ei­nen welt­wei­ten An­s­tieg der Um­sät­ze im Be­reich des kon­ver­gen­ten System­mark­tes um 9,1 Pro­zent. Hy­per­kon­ver­gen­te Sys­te­me out­per­for­men, an­de­re Teil­seg­men­te er­leb­ten Rück­gän­ge.
Weiterlesen