Fujitsu Reinforces Channel with Powerful Entry-level Storage System for SMBs
New Fujitsu ETERNUS DX60 S2 supported by major series of channel initiatives
Regensdorf

, (PresseBox) -
Fujitsu today delivers channel partners with a powerful entry-level disk storage system and promotional package that will prove a driving force tool in winning deals. The new ETERNUS DX60 S2 cost-effectively scales to meet the ever-increasing data-management needs of small and medium-sized businesses (SMBs). Easy to install, configure, operate and maintain, the system removes customers' headaches of managing and storing increasing volumes of essential data at affordable costs.

ETERNUS DX60 S2 will be sold via Fujitsu's extensive channel-partner network. As well as including the ETERNUS DX60 S2 in major promotional initiatives, the company will be supporting its success through special training, demo system programs and by giving partners the ability to specify build-to-order systems, reducing delivery times and optimizing channel pricing.

Says the channel manager at Fujitsu Technology Solutions: «The new entry level ETERNUS DX60 S2 is the centerpiece of Fujitsu's channel storage program, providing SMBs with tailored systems for their specific needs and delivering major opportunities for our partners. Resellers engaging in ETERNUS DX are motivated by our technology performance and flexible configurations, excellent margins, and that they understand and trust in our channel strategy.»

ETERNUS DX60 S2 models will be included in a full range of Fujitsu SELECT channel partner initiatives, such as channel promotions, providing welcome sales support for new partners. Online configuration and channel assembly mean ETERNUS DX60 S2 can be built-to-customer-order, cutting delivery times from 10 days to between 24 and 48 hours.

Pricing varies by region and configuration.

Expandability

Developed specially for the needs of SMBs looking to consolidate and centralize data management, and to ensure reliable storage for branch offices, Fujitsu's ETERNUS DX60 S2 can also support entire IT operations, including business critical applications and databases, virtualized servers, and business data warehouses.

Now expandable to 72 TB of storage - enough to record DVD-quality live TV for 72,000 hours, or more than eight years, non-stop - the new ETERNUS DX60 S2 is the entry-level economy model within Fujitsu's ETERNUS DX family. Built on 40 years of Fujitsu experience in storage development and based on a consistent architecture and uniform management software, today's ETERNUS DX disk storage systems form a seamlessly-integrated family, from entry-level to high-end datacenter class, providing assured storage support for efficient business operation and growth.

ETERNUS DX60 S2 now expands to 24 RAID disk drives to meet ever changing business needs. The extension of host attachment through iSCSI and SAS connections in addition to Fibre Channel helps maximize customer investments in existing IT resources. Systems are available across Central Europe, Middle East, Africa and India from October 7, 2011.

Simple and straightforward storage management

Storage management, often daunting to small and mid-size companies, is simple and straightforward via Fujitsu's ETERNUS SF Express management software. This is included free with every ETERNUS DX60 S2 system. The software increases the operational efficiency of installing, configuring and maintaining storage infrastructures. Thanks to close integration with existing IT infrastructure, including host operating systems, multi-vendor servers, network infrastructures and backup solutions, tasks can be performed faster on ETERNUS systems. This significantly reduces administration time and effort.

Full technical specifications on the ETERNUS DX60 S2 can be downloaded from http://ts.fujitsu.com/...
Fujitsu Technology Solutions GmbH
Fujitsu Technology Solutions is the leading European IT infrastructure provider with a presence in all key markets in Europe, the Middle East and Africa, plus India, serving large-, medium- and small-sized companies as well as consumers. With its Dynamic Infrastructures approach, the company offers a full portfolio of IT products, solutions and services, ranging from clients to datacenter solutions, Managed Infrastructure and Infrastructure as a Service. Fujitsu Technology Solutions employs more than 13,000 people and is part of the global Fujitsu Group. For more information, please see: http://ch.ts.fujitsu.com/....

All other company or product names mentioned herein are trademarks or registered trademarks of their respective owners. Information provided in this press release is accurate at time of publication and is subject to change without advance notice.

About Fujitsu

Fujitsu is a leading provider of information and communication technology (ICT)-based business solutions for the global marketplace. With approximately 170,000 employees supporting customers in over 100 countries, Fujitsu combines a worldwide corps of systems and services experts with highly reliable computing and communications products and advanced microelectronics to deliver added value to customers. Headquartered in Tokyo, Fujitsu Limited (TSE:6702) reported consolidated revenues of 4.5 trillion yen (US$55 billion) for the fiscal year ended March 31, 2011. For more information, please see: www.fujitsu.com.
Press releases you might also be interested in
Weitere Informationen zum Thema "Hardware":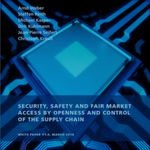 Open-Source auch für Hardware?
Ein Whi­te­pa­per emp­fiehlt, die Ent­wick­lung von Open-Sour­ce-Hard­wa­re zu be­sch­leu­ni­gen. Die Au­to­ren kom­men aus For­schungs­in­sti­tu­ten, aus de­nen ei­nen so weit­ge­hen­de For­de­rung eher nicht zu er­war­ten war.
Weiterlesen