Fujitsu Delivers HPC Price-Performance Breakthrough with Certified PRIMERGY SMP Clusters
vSMP Foundation Hardware Certification enables HPC applications on Industry Standard Servers
Regensdorf

, (PresseBox) -
Fujitsu today announces a price-performance breakthrough that enables customers to use clusters of x86 PRIMERGY servers for high-end Symmetric Processing (SMP) in high-performance computing (HPC) environments.

Thanks to the official Certification of vSMP Foundation Hardware for Fujitsu PRIMERGY servers by US-based ScaleMP, the leader in virtualization for high-end computing, Fujitsu customers can now create shared-memory clustered PRIMERGY-based systems in cloud-enabled datacenters. As a result, enterprises enjoy savings on hardware costs by running SMP-based software on clusters of inexpensive x86 PRIMERGY servers, instead of being forced to rely on more expensive proprietary systems.

Fujitsu, the HPC market leader in Asia Pacific with more than 1,200 installations, is now also focusing on growing its HPC business in Europe, where x86-based servers already account for the majority of units shipped. Thanks to the addition of ScaleMP certification, Fujitsu expects high levels of customer interest in running HPC applications on PRIMERGY, starting with the newly-certified PRIMERGY RX300 S6 and RX600 S6 models. Support for further PRIMERGY models is planned.

ScaleMP certification means peace-of-mind that PRIMERGY clusters are fully able to support high-performance Open MultiProcessing-based multi-threaded applications, which require large amounts of system memory. An additional customer benefit is that PRIMERGY HPC clusters can be scaled up and down according to system load and demand, instead of tying up capital in fixed-size systems, and allowing for simple future expansion.

By integrating PRIMERGY servers into a single virtual SMP cluster, the high-performance shared-memory system can scale up to 1024 eight-core processors and 64TB of system memory. Clusters are physically interconnected via high-speed InfiniBand, also providing system redundancy for failover or bandwidth scaling. Furthermore, failed system removal and automatic system recovery features are available.

The new x86-based HPC clusters enhance Fujitsu's complete stack of x86 PRIMERGY server-based HPC solutions, which enable engineers and scientists to achieve breakthrough innovation without needing to acquire the specialized expertise needed to set up and operate complex HPC platforms. To address the growing needs of small and medium-sized enterprises, Fujitsu also provides integrated and certified ready-to-go HPC cluster solutions that are optimized for specific business requirements.
Fujitsu Technology Solutions GmbH
Fujitsu Technology Solutions is the leading European IT infrastructure provider with a presence in all key markets in Europe, the Middle East and Africa, plus India, serving large-, medium- and small-sized companies as well as consumers. With its Dynamic Infrastructures approach, the company offers a full portfolio of IT products, solutions and services, ranging from clients to datacenter solutions, Managed Infrastructure and Infrastructure as a Service. Fujitsu Technology Solutions employs more than 13,000 people and is part of the global Fujitsu Group. For more information, please see: http://ch.ts.fujitsu.com/....

All other company or product names mentioned herein are trademarks or registered trademarks of their respective owners. Information provided in this press release is accurate at time of publication and is subject to change without advance notice.

About Fujitsu

Fujitsu is a leading provider of information and communication technology (ICT)-based business solutions for the global marketplace. With approximately 170,000 employees supporting customers in over 100 countries, Fujitsu combines a worldwide corps of systems and services experts with highly reliable computing and communications products and advanced microelectronics to deliver added value to customers. Headquartered in Tokyo, Fujitsu Limited (TSE:6702) reported consolidated revenues of 4.5 trillion yen (US$55 billion) for the fiscal year ended March 31, 2011. For more information, please see: www.fujitsu.com.
Press releases you might also be interested in
Weitere Informationen zum Thema "Hardware":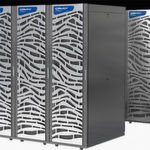 Supercomputing-Spezialist Cray greift zu AMD-Prozessoren
"AMD Epy­c" er­hält die Su­per-Com­pu­ting Wei­hen und Cray ein at­trak­ti­ve Re­chen­grund­la­ge. Die Pro­dukt­li­nie "Cray CS500" wird mit den CPUs aus­ge­stat­tet.
Weiterlesen