Press release BoxID: 751710 (Foundry-Planet)
Foundry-Planet
Sebastianstr. 4
87629 Füssen,
de
http://www.foundry-planet.com
Contact person

+49 (8362) 930850

Watch the Inductotherm Group Team Present Cutting-Edge Techonology at GIFA 2015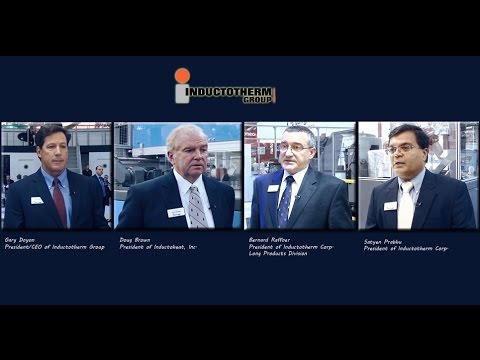 (PresseBox) (
Füssen

,
)
In a video solely produced by Foundry Planet, we had the opportunity to interview Gary Doyon, President/CEO of Inductotherm Group where he touches upon the Inductotherm Group "Global yet Local" concept, while Satyen Prabhu-President of Inductotherm Corp., Bernard Raffner- President of Inductotherm Corp. Long Products Division and Doug Brown-President of Inductoheat, Inc., each spoke to us about cutting edge technology in each division.
Für die oben stehenden Pressemitteilungen, das angezeigte Event bzw. das Stellenangebot sowie für das angezeigte Bild- und Tonmaterial ist allein der jeweils angegebene Herausgeber (siehe Firmeninfo bei Klick auf Bild/Meldungstitel oder Firmeninfo rechte Spalte) verantwortlich. Dieser ist in der Regel auch Urheber der Pressetexte sowie der angehängten Bild-, Ton- und Informationsmaterialien.
Die Nutzung von hier veröffentlichten Informationen zur Eigeninformation und redaktionellen Weiterverarbeitung ist in der Regel kostenfrei. Bitte klären Sie vor einer Weiterverwendung urheberrechtliche Fragen mit dem angegebenen Herausgeber. Bei Veröffentlichung senden Sie bitte ein Belegexemplar an
service@pressebox.de
.