25 YEARS - FRITSCH-LASER TECHNOLOGY!
CELEBRATE WITH US!

Idar-Oberstein

, (PresseBox) -
Get one of 25 FRITSCH anniversary edition ANALYSETTE 22 COMPACT Laser Particle Sizers at a sensational 25% anniversary discount! Act now and save 25%! Offer available only as long as supplies last.

For 25 years, FRITSCH has remained a step ahead in high-tech laser technology. In 1985, we revolutionised measurement precision by introducing laser diffraction in a convergent laser beam with the patented FRITSCH measurement process. Only the infinite adjustment of the measurement range made a previously unachieved number of measurement channels possible. For simple, rapid measurement.

The ANALYSETTE 22 COMPACT is the ideal FRITSCH solution for analysis of sample materials with particle sizes in the range from 0.3 to 300 ¦Ìm ¨C and the ideal starter model for anyone wishing to switch from classical sieving and sedimentation processes to laser diffraction. The ANALYSETTE 22 COMPACT is available in 3 different versions. Select your ANALYSETTE 22 COMPACT anniversary edition:
- Instrument for Wet Dispersion
Ideal for measurement of even difficult-to-disperse samples without additional equipment at sample volumes of 0.1 ¨C 2 cm3.
- Instrument for Dry Dispersion
For fast and reliable preparation of dry samples of 5 ¨C 50 cm3 in freely programmable, fully-automatic measurement processes. All that you need is a connection for oil-, water- and particle free compressed air of at least 5 bar and 8 cm3/h flow rate and an additional air suction connection.
- Combined Instrument for Wet and Dry Dispersion
Both dispersion modules in a single device for full flexibility ¨C reliable selection of dispersion mode via software command, simple and safe.

THE ADVANTAGES
- Extremely simple one-button operation
- Ideal for routine particle size analysis in the lab and in production
- Completely pre-programmable measurement processes and simple loading via key
- Easy conversion of the results to classical processes
- Individual programmability for maximum flexibility
- Reliable reproducibility
- Changing of the measurement range without alteration
- Testing according to ISO 13320-1

The ANALYSETTE 22 COMPACT is now available in a one-time anniversary edition:
25 instruments ¨C at a 25% discount.
Take advantage of this opportunity and celebrate with us!

Complete detailed information on the FRITSCH ANALYSETTE 22 COMPACT and the entire FRITSCH Laser Particle Sizer selection can be found at www.fritsch-laser.com

Your personal Laser Particle Sizer -Partner:
Dr. G¨¹nther Crolly, Telephone: +49 67 84 ¨C 70 138, E-Mail: crolly@fritsch.de
Fritsch GmbH
FRITSCH: Your specialist in the processing laboratory

FRITSCH is the world-wide leading manufacturer of instruments for sample preparation and particle size analysis in the laboratory. Since 87 years now, the company is concentrating on the three product groups and identified with the brand names of PULVERISETTE, ANALYSETTE and LABORETTE in research and industrial laboratories. The FRITSCH name is synonymous with technical competence and economical efficiency in all matters in the field of

milling - particle sizing - dividing

Because FRITSCH operates throughout the world, they have the unique advantage of vast experience in a wide variety of scientific disciplines which enables them to offer constructive solutions to ease problem solving. FRITSCH laboratory instruments ensure proven, extreme longevity, highest quality and innovative technology in combination with simple operation.

Here a short view of the FRITSCH instrument range:

Mills for analytical sample preparation
FRITSCH offers an entire range of instruments for crushing, grinding, fine-milling, mixing and homogenising of hard-brittle, fibrous, elastic to soft materials dry or in suspension. The FRITSCH variety of grinding mills includes different ball mills, planetary ball mills, cutting mills, rotor mills, jaw crushers enables an optimal adjustment of the grinding process to the sample material and the following analyse.
Show us the sample, which you can't manage to grind and we'll show you the instrument which can do it!

Sieve Shakers and Laser Particle Sizers for particle size determination
FRITSCH with their vast experience in the particle sizing field offers Sieve Shakers as well as Laser Particle Sizers in different version.
FRITSCH offers due to its equipment varieties for each special use and application a particle size measuring instrument, which uses the most modern laser technology or the well-tried and reliable sieving method and this with an unbeatable price-to-performance ratio.

Laboratory instruments for analytical sample handling
The FRITSCH instrument range also includes sample divider and feeder, because representative sample dividing of dry samples or suspension as well as controlled and uniform sample feeding for mills and other instruments are basic conditions for reliable and precise analysis.

In addition to the complete programme of laboratory instruments, FRITSCH also offers a comprehensive range of services with Workshops, product presentations with the FRITSCH-Mobile laboratory bus on your door step, test milling or particle size analysis of your sample at no charge and much more.

Please use our instrument search engine and our grinding report data base on the FRITSCH-Homepage under www.fritsch.de – sample preparation – solutions. Here you will find your suitable instrument as well as a comparative grinding report comparable with your application.

Make use of our decades of experience. We can facilitate your work substantially.
Press releases you might also be interested in
Weitere Informationen zum Thema "Photonics":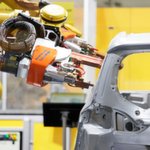 1,7 Millionen Industrie-Roboter erneuern Fabriken weltweit bis 2020
Bis 2020 wer­den mehr als 1,7 Mil­lio­nen neue In­du­s­trie-Ro­bo­ter in den Fa­bri­ken der Welt in­stal­liert. Die Ro­bo­tik-Bran­che in Asi­en ver­zeich­net da­bei ak­tu­ell das stärks­te Wachs­tum – an­ge­führt von Chi­na als Welt­markt­füh­rer. Im Jahr 2017 sind die Ro­bo­ter­in­stal­la­tio­nen in der Re­gi­on Asi­en-Aus­tra­li­en vor­aus­sicht­lich um 21 Pro­zent ge­s­tie­gen, in Nord- und Süda­me­ri­ka um 16 Pro­zent und in Eu­ro­pa um acht Pro­zent. Das sind Er­geb­nis­se aus dem World-Ro­botics-Re­port 2017, der von der In­ter­na­tio­nal Fe­de­ra­ti­on of Ro­botics (IFR) ver­öf­f­ent­licht wur­de.
Weiterlesen