The value of independent performance measurements for sensors, cameras and lenses

Taufkirchen

, (PresseBox) -
The large number of manufacturers and models and the wide-ranging functionality available on the image processing market often make it difficult for customers and system integrators to choose the right camera or image sensor for their specific application. Many technical data sheets do not contain all the necessary information and, depending on the manufacturer, they may be based on different performance figures, which means that they cannot be compared with one another. This is where the FRAMOS Technical Support comes in, with a comprehensive range of testing and measurement services. The product expertise of our image processing specialists allows them to constantly improve the services they provide and to offer customers detailed, non-proprietary advice. Additional services include running individual tests under conditions that are specific to the customer and the application and testing product ranges for camera manufacturers.

FRAMOS carries out measurements in accordance with ISO standards and the EMVA1288 standard, among others. ISO standard tests always cover the entire imaging system and can therefore be used to identify the best combination of camera and lens for a particular customer application. Measurements are generally made using the Ulbricht sphere and transmissive charts in order to assess the interaction between lenses and cameras. Standardised test charts, such as the ISO 12233 resolution chart and the ISO 14524 OECF chart, can be used to evaluate information that includes the dynamic range, signal-to-noise ratio and modulation transfer function (MTF)/resolution. It is also possible to analyse the distortion, vignetting and chromatic aberration of the lens using additional test charts and to choose suitable products and settings on this basis. The majority of the measurements are visual and are usually relatively simple to make, which allows the different systems to be assessed quickly.

Helke Gabele from FRAMOS Technical Support explains the most important reasons behind non-proprietary, independent testing and the accompanying measurements: "Apart from the fact that the data sheets are difficult to compare, many customers need to measure the sensors with their own specific settings. And we too are constantly learning something new as a result of the high-precision measurements of our products. For example, when we measured the dark current of one of the latest CMOS sensors, we saw that black level clamping occurred in combination with long exposure times. After talking to the manufacturer, we were sent register settings that prevent this from happening. This means that we can offer our customers added value and help them to use the products in the most effective way for their application."

The EMVA1288 standard requires cameras or sensor demo kits to be measured without a lens, which means that the sensor is illuminated directly with homogeneous light. The FRAMOS EMVA1288 measuring device records the properties on four wavelengths: 465nm, 532nm, 630nm and 848nm. The process measures the intrinsic parameters of the sensor, such as linearity, sensitivity, noise, non-uniformity (DSNU, PRNU), dark current and spectral sensitivity. The layout and structure of the EMVA1288 report is pre-defined and the values are generally measured uniformly in electrons or photons. The measurements take some time to complete and provide a highly detailed, clear and, most importantly, standardised comparison between different cameras or image sensors.

As Stephanie Zahner from FRAMOS Technical Support explains: "The lens manufacturers often only give us information like 'less distortion', 'low ghost' or 'corrected chromatic aberration'. But what does that mean exactly? Lens manufacturers frequently have ranges of very similar lenses. For example, almost every manufacturer of C-mount lenses has a 2/3" 3 Mpixel range. Customers find it hard to assess the differences in the performance of these lenses. To make it possible to distinguish between them, we measure key data such as the MTF, vignetting, distortion and chromatic aberration of the lenses in accordance with the ISO standard. This enables us to provide the customer with better advice on making the right choice of lens."

The ISO standard and the EMVA1288 standard provide transparent, objective information and use reliable and precise measurement methods based on comparable guidelines. Both standards offer customers objective measurements of cameras and image sensors. One of the most recent comparison tests carried out by the FRAMOS Technical Support team compares the latest A0135 sensor from ON Semiconductor with the performance of its predecessor the A0134.

The in-house FRAMOS Imaging Experts Academy offers specialist training for users of image processing systems to introduce them to the test methods and how they are used. Upcoming October, the "Quality of camera systems" course (held in German) given by Professor Dietmar Wüller focuses in detail on measurements based on the ISO standard. Furthermore, the two-day workshop led by EMVA1288 committee member Professor Bernd Jähne and entitled "Principles, use and applications of the EMVA1288 standard" takes an in-depth look at the EMVA1288 measurement methods and their evaluation and use. The next course dates can be found on the FRAMOS Imaging Experts Academy website.
Website Promotion
FRAMOS GmbH
"Teaching machines to see" is what drives us. For FRAMOS, image processing is not just a technical discipline, but a fascination, the future and our mission all at the same time. Since 1981 FRAMOS is a leading technology provider in industrial, scientific and medical image processing. Headquartered in Munich and with 4 subsidiaries worldwide we enable manufacturers, system integrators and researchers to benefit from imaging technologies. Our team of approximately 85 associates offers a fully comprehensive portfolio of imaging components, technical consulting and support. Thanks to many years of experience in the industry, we offer engineering services for custom camera development as well as complete turn-key-solutions. We are proud of our participation in a revolutionary technology. The spirit of innovation and development of our early days has remained at the heart of our company.
www.framos.com
Press releases you might also be interested in
Weitere Informationen zum Thema "Optische Technologien":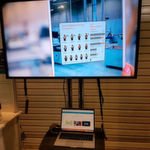 Das bietet Indoor Navigation kombiniert mit AR
In­s­i­der Re­se­arch im Ge­spräch mit In­s­i­der Na­vi­ga­ti­on: Auf dem Du­b­lin Tech Sum­mit traf Oli­ver Schon­schek von In­s­i­der Re­se­arch Cle­mens Kir­ner, Aug­men­ted-Rea­li­ty-Ex­per­te und Grün­der von In­s­i­der Na­vi­ga­ti­on.
Weiterlesen