Press release BoxID: 194402 (FRAMOS GmbH)
FRAMOS GmbH
Mehlbeerenstr. 2
82024 Taufkirchen,
de
http://www.framos.com
Contact person
Sascha Zimmermann
+49 (89) 710667-13

Princeton Instruments MegaPlus EP16000 now available with GigE Vision Interface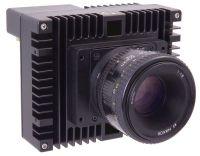 (PresseBox) (
Pullach b. München

,
)
These top of the line camera models of the MegaPlus series, which are now also available with GigE Vision interface, offer the resolution and image quality needed for sophisticated industrial and scientific applications. Ideal for medical imaging digitalising, they reach a colour depth of true 12 bits per channel with a resolution of 4872 pixels × 3248 pixels. The camera is available with a colour or a greyscale sensor and stands out due to its exceedingly low image noise. To prevent even finest details from being obscured by noise, the camera uses optimised "shooting conditions": The compact enclosure houses a 16 megapixel interline progressive scan CCD with a sensor area of 36 mm × 24 mm. As a result, a comparatively large area of 7.4 m × 7.4 m is available for each pixel. In addition, passive (EP16000) or active (EC16000) cooling and an optional fan lower the sensor's temperature and hence, image deterioration caused by dark current noise is reduced to a minimum. Camera data can be transferred at full resolution with a rate of up to 3.2 fps using a FireWire, CameraLink or GigE Vison interconnection.
The publisher indicated in each case is solely responsible for the press releases above, the event or job offer displayed, and the image and sound material used (see company info when clicking on image/message title or company info right column). As a rule, the publisher is also the author of the press releases and the attached image, sound and information material.
The use of information published here for personal information and editorial processing is generally free of charge. Please clarify any copyright issues with the stated publisher before further use. In the event of publication, please send a specimen copy to
service@pressebox.de
.