New Aptina 10 MPixel CMOS Image Sensor (MT9J001)

Pullach b. München

, (PresseBox) -
Framos introduces the new Aptina 10 Megapixel 1/2.3-inch CMOS Image Sensor. The MT9J001 features DigitalClarity - Aptina's breakthrough low-noise CMOS imaging technology that achieves near-CCD image quality (based on signal-to-noise ratio and low-light sensitivity) while maintaining the inherent size, cost, and integration advantages of CMOS. The active-pixel digital sensor has an active pixel array of 3856H x 2764V including border pixels. It can support 10 megapixel (3664H x 2748V) digital still images and a digital video mode (3840H x 2160V) which is equivalent to Full HD 1080p resolution. It incorporates sophisticated on-chip camera functions such as windowing, mirroring, column and row skip modes, and snapshot mode. It is programmable through a simple two-wire serial interface and has very low power consumption. The Sensor offers two interface options such as parallel output or four-lane serial high-speed pixel interface (HiSPiTM) differential signaling (sub-LVDS). The HiSpiTM Imager features up to 15fps at full resolution and 60fps at full HD 1080p resolution. The Sensor is available as 48-pin iLCC package and Bare Die.
Press releases you might also be interested in
Weitere Informationen zum Thema "Consumer-Electronics":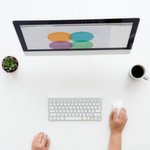 PC-Markt schafft den Aufschwung nicht
Auch das Weih­nachts­ge­schäft konn­te dem welt­wei­ten PC-Markt im vier­ten Quar­tal 2017 nicht den nö­t­i­gen Schwung ge­ben, um po­si­ti­ve Zah­len zu sch­rei­ben, es bleibt ein Mi­nus von zwei Pro­zent. Ins­ge­s­amt gin­gen die Ver­kaufs­zah­len 2017 um 2,8 Pro­zent zu­rück.
Weiterlesen