FRAMOS Shows High-Precision Optical Tracking System at MedTech Summit 2016

Taufkirchen

, (PresseBox) -
Imaging is a cutting-edge technology for medical innovations. FRAMOS Imaging Systems has developed a real-time optical tracking system (OTS), which provides precise information on the position and orientation of objects in three-dimensional space and sets new standards in accuracy, measurement stability and usability. At the MedTech Summit 2016, from June 16th to 18th in Nuremberg, FRAMOS will demonstrate the technologies and their various medical applications.

The combination of image recognition and positioning enables game-changing methods in diagnostics and treatment. Precise navigation aids for the use of medical instruments in the operating room or data fusion from different imaging modalities can significantly ease many tasks for physicians and thus contribute to simpler and more reliable diagnoses. With imaging support, as well new rehabilitation methods with patient's active involvement, a higher success can be achieved.

In collaboration with the renowned Klinikum rechts der Isar (KRDI) and the Technical University of Munich (TUM), FRAMOS provide medical companies a technology by which any surgical tools and diagnostic sensors can be tracked with high precision. Examining physicians can continue to use these techniques in the familiar way whilst at the same time having more extensive diagnostic data at their disposal.

A first adaptation of the ground-breaking technology improves the so-called mirror therapy for stroke patients. Some 80 per cent of the patients suffer from hemiparesis afterwards, a semi-paralysis of either the upper or the lower extremities. The FRAMOS OTS technology and a robotic arm project the movements performed on the healthy side of the body to the respective other body side that needs to be treated. With the repetitive movement instead of the damaged neurons, other parts of the brain learn and take over the movement patterns. This therapy significantly improves and accelerates the self-repairing mechanism of the human brain.

Other application scenarios are sensor fusion and navigation of instruments in the operating theatre. OTS can support surgeons wherever surgical tools have to be localised inside the body, e.g. in minimally invasive interventions or biopsies, with the greatest possible precision. In principle, the OTS technology can be used for all problems in which the position and orientation of objects in space have to be determined with precision. When it comes to OTS technology, FRAMOS see themselves as a technology provider and engineering partner with the core competence of image processing, which can be transferred to a wide range of applications in conjunction with partner companies in the medical technology sector.

In hall NCC Ost, booth E1/114 at the MedTech Summit, the FRAMOS imaging experts will explain how the technology works in clinical practice independently of surface features and how it can be adapted to specific medical conditions, measuring volumes and accuracy needs. They know in particular about the benefits of the OTS technology in comparison to conventional methods, such as continuous measurement reliability, intuitive usability and flexible scalability for specific medical applications.
Website Promotion
FRAMOS GmbH
"Teaching machines to see" is what drives us. For FRAMOS, image processing is not just a technical discipline, but a fascination, the future and our mission all at the same time. Since 1981 FRAMOS is a leading technology provider in industrial, scientific and medical image processing. Headquartered in Munich and with 4 subsidiaries worldwide we enable manufacturers, system integrators and researchers to benefit from imaging technologies. Our team of approximately 85 associates offers a fully comprehensive portfolio of imaging components, technical consulting and support. Thanks to many years of experience in the industry, we offer engineering services for custom camera development as well as complete turn-key-solutions. We are proud of our participation in a revolutionary technology. The spirit of innovation and development of our early days has remained at the heart of our company.

www.framos.com
Press releases you might also be interested in
Weitere Informationen zum Thema "Medizintechnik":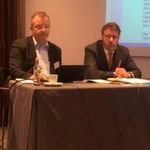 Bundesverband Künstliche Intelligenz will KI-Einsatz voranbringen
Sprach­rohr der KI-Bran­che soll der neue Bun­des­ver­band Künst­li­che In­tel­li­genz sein, der am Mit­te März von 24 Un­ter­neh­men ge­grün­det wur­de. Zu den Zie­len ge­hört För­de­rung ei­nes Men­schen-zen­trier­ten und Men­schen-di­en­li­chen Ein­sat­zes von KI-Tech­no­lo­gi­en.
Weiterlesen