Press release BoxID: 255709 (FRAMOS GmbH)
FRAMOS GmbH
Mehlbeerenstr. 2
82024 Taufkirchen,
de
http://www.framos.com
CMOS Camera Lumenera LM085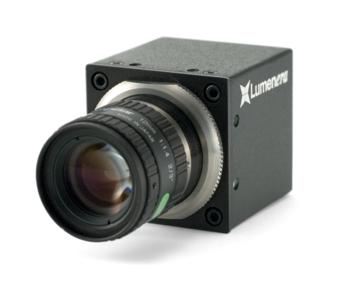 (PresseBox) (
Pullach b. München

,
)
The Lumenera Lm085 mini CMOS USB 2.0 camera is designed for industrial environments with high contrast-light scenes, tight space constraints, and rugged environmental conditions. An ultra-wide dynamic range makes the Lm085 an ideal choice for applications with variable lighting conditions, as this camera can provide a dynamic range of 100dB. The Lm085's small form factor of 44x44x56mm and robust mechanicals are well suited for conditions where the camera is under sustained vibration, fatigue, and stress from conveyor lines, mechanical arms, mobile vehicles, or gantries that introduce shock and vibration. An electronic global shutter eliminates the smear effect generated by moving objects, while the locking mini USB and RJ45 GPI/O connectors keep cables reliably attached to the camera back plate even in challenging conditions. When high throughput is essential, the Lm085 provides 60 fps at full 752x480 pixels resolution, and over 100 fps at 376x240 pixels binning mode. Uncompressed images in live streaming video and still image capture are provided across a mini USB 2.0 digital interface. No framegrabber is required. Advanced camera control is available through a complete Software Developer's Kit (SDK), with sample code available to quickly integrate camera functions into OEM applications. Hardware and software based synchronization trigger is provided standard. 32 MB on-board memory is available for frame buffering.
Für die oben stehenden Pressemitteilungen, das angezeigte Event bzw. das Stellenangebot sowie für das angezeigte Bild- und Tonmaterial ist allein der jeweils angegebene Herausgeber (siehe Firmeninfo bei Klick auf Bild/Meldungstitel oder Firmeninfo rechte Spalte) verantwortlich. Dieser ist in der Regel auch Urheber der Pressetexte sowie der angehängten Bild-, Ton- und Informationsmaterialien.
Die Nutzung von hier veröffentlichten Informationen zur Eigeninformation und redaktionellen Weiterverarbeitung ist in der Regel kostenfrei. Bitte klären Sie vor einer Weiterverwendung urheberrechtliche Fragen mit dem angegebenen Herausgeber. Bei Veröffentlichung senden Sie bitte ein Belegexemplar an
service@pressebox.de
.