FOBA presents innovative marking solutions for medical devices at MEDTEC
Selmsdorf

, (PresseBox) -
FOBA, international market and technology leader of systems and integrated solutions for laser marking and engraving, presents its latest developments for the identification of medical devices at MEDTEC Europe. Recent laser-based solutions meet the identification needs of the industry while improving process reliability and production efficiency.

Whether banding marks for depth measurement or 2D codes, whether marking high-sensitive plastics or identification of hardened metal: Laser marking is the preferred technology for marking medical products. Regulations are getting stricter, contents more complex. The number of products which have to be marked increases continuously – that is why it is getting even more important for manufacturers to take the efficiency of their production lines into account.

Closed-loop marking process increases production efficiency

In this context, FOBA showcases much more than just a high-quality marking solution for the medical industry at MEDTEC Europe in Stuttgart: Among others, a vision-based marking process will be presented live. This process includes 3 steps: the pre-mark verification, the laser marking itself and the post-mark validation, e.g. for reading the content of 2D codes and validating laser marks through Optical Character Verification (OCV, checks if every marked character matches the expected content). Major benefit: there is no need for third party hardware or a separate inspection process as the vision system is integrated in the laser marking system.

According to Manfred Suddendorf (Director Product Management FOBA Laser Marking + Engraving) "this solution increases the efficiency of marking medical devices and contributes to improved product quality and process reliability. Marking errors are prevented and markings are validated by vision-based systems." Thus, manufacturers of medical devices ensure high quality standards and improve on productivity through a reliable marking process.

Apart from this closed-loop marking process, FOBA presents its full range of laser marking solutions for product identification: Marking lasers, Laser class 1 workstations as well as camera systems.

Highlights: Live-Demo of Optical Character Verification (OCV) Code-Reading by Vision-System IMP and laser working station M2000

FOBA offers a broad range of systems and powerful workstations for marking medical and surgical devices, implants and products precisely and repeatedly as well as additional equipment.

At MEDTEC Europe, FOBA demonstrates medical marking applications like code reading and OCV during live demos at its laser class 1 workstation M2000 with the integrated camera system IMP (Intelligent Mark Positioning). The M-Series model FOBA M2000 processes small parts in trays or pallets, larger as well as batches of parts precisely and efficiently to help you to improve product quality and efficiency Also on display: the compact laser workstation M1000 – designed for the high-quality laser marking of small parts, medium sized components and work pieces and batches.

FOBA at MEDTEC Europe: booth# C63, hall 7
June 03-05, 2014 Messe Stuttgart
Website Promotion
FOBA Laser Marking + Engraving (Alltec GmbH)
FOBA Laser Marking + Engraving is among the leaders in manufacturing and supplying precision laser systems for marking and engraving. FOBA marking lasers mark a variety of materials and parts not least in the key markets of Electronics, Automotive, Plastics, Medical, Safety and ID. FOBA laser engraving machines are especially applied in the fields of Tool, Metal and Mold Making, Medical Technology, Jewelry and Coinage. Worldwide sales and service branches service the most important markets.

In September 2009, FOBA has become part of ALLTEC GmbH. Since then, FOBA is part of ALLTEC as a sales channel for laser part marking and engraving.
Press releases you might also be interested in
Weitere Informationen zum Thema "Medizintechnik":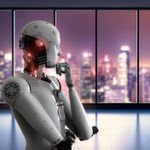 KI im Unternehmen: das Für und Wider
Auf der ei­nen Sei­te er­leich­tert der Ein­satz von Künst­li­cher In­tel­li­genz (KI) den Ar­beit­sall­tag, stei­gert die Ef­fi­zi­enz und führt zu ei­ner bes­se­ren Kun­den­bin­dung. Für Un­ter­neh­men er­ge­ben sich je­doch auch neue Scha­den- und Haf­tungss­ze­na­ri­en.
Weiterlesen