Press release BoxID: 864407 (Flottweg SE)
Flottweg SE
Industriestr. 6-8
84137 Vilsbiburg,
de
https://www.flottweg.com
Contact person
Nils Engelke
+49 (8741) 301-1577

Commerzbank Confirms Outstanding Credit Rating for Flottweg SE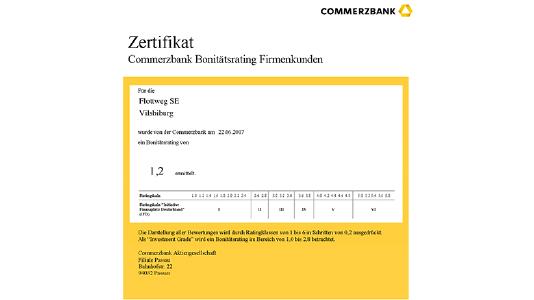 (PresseBox) (
Vilsbiburg

,
)
In their current rating report, Commerzbank AG assigned Flottweg SE an internal creditworthiness score of 1.2 due to a very solid financial and earnings structure. This rating corresponds to a Standard & Poor's investment rating of Grade AAA. The continued very good rating confirms the solid, sustainably successful business model of Flottweg SE and shows that Flottweg SE is entirely ready for future challenges. Flottweg SE considers it a priority to retain this outstanding rating in the future, and has consistently and successfully aligned its strategy with that priority for many years. In the first half of 2017, the Flottweg Group saw record earnings of 104 million EUR.
Für die oben stehenden Pressemitteilungen, das angezeigte Event bzw. das Stellenangebot sowie für das angezeigte Bild- und Tonmaterial ist allein der jeweils angegebene Herausgeber (siehe Firmeninfo bei Klick auf Bild/Meldungstitel oder Firmeninfo rechte Spalte) verantwortlich. Dieser ist in der Regel auch Urheber der Pressetexte sowie der angehängten Bild-, Ton- und Informationsmaterialien.
Die Nutzung von hier veröffentlichten Informationen zur Eigeninformation und redaktionellen Weiterverarbeitung ist in der Regel kostenfrei. Bitte klären Sie vor einer Weiterverwendung urheberrechtliche Fragen mit dem angegebenen Herausgeber. Bei Veröffentlichung senden Sie bitte ein Belegexemplar an
service@pressebox.de
.