Press release BoxID: 775657 (Fiberfox)
Fiberfox
Elbestrasse 12
26135 Oldenburg,
de
http://www.fiberfox.com
Contact person
Günter Bergmann
+49 (441) 380398-0

voestalpine "Klangwolke" 2015 at Linz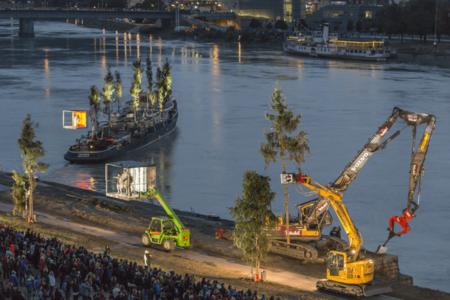 (PresseBox) (
Oldenburg

,
)
This year's cultural highlight at Linz was performed by using pre-made FIBERFOX cables and receptacles. Due to Donaupark's harsh environment standard fiber connections were adapted to FIBERFOX, which allows the operation even under water, is resistant against gross soilings and can be burdened mechanical extremly by heave equipment . Once again the easiest handling and most reliable performance with the FIBERFOX system attained great success, not only for the host but also for the executing event company "Gruppe 20" from Augsburg.
The publisher indicated in each case is solely responsible for the press releases above, the event or job offer displayed, and the image and sound material used (see company info when clicking on image/message title or company info right column). As a rule, the publisher is also the author of the press releases and the attached image, sound and information material.
The use of information published here for personal information and editorial processing is generally free of charge. Please clarify any copyright issues with the stated publisher before further use. In the event of publication, please send a specimen copy to
service@pressebox.de
.