Eurocopter AS365 N3+ Dauphin helicopters enter service with the Bangladesh Army for use in humanitarian missions and VIP airlift

Dhaka, Bangladesh

, (PresseBox) -
The Bangladesh Army has marked its formal service introduction of two new Eurocopter AS365 N3+ Dauphin helicopters, which will be deployed on United Nations humanitarian missions and operated in multi-role transport duties for the republic.

Supplied through the Eurocopter South East Asia subsidiary, these are the first Eurocopter-built rotorcraft to join the Bangladesh Army's aviation fleet, and they were presented today during a ceremony at the military service's Dhaka Cantonment headquarters.

In preparation for the twin-engine Dauphin's service introduction, an initial group of Bangladesh Army pilots attended ground school classes at Eurocopter South East Asia's Singapore facility, and were trained in the subsidiary's AS365 N3+ full-flight simulator. Additional crew members are to follow, including pilots who will be qualified as instructors.

"These two Dauphins will significantly enhance our capabilities, as we continue to participate actively in world peacekeeping missions," explained Brigadier General Abdullah Al Azhar, commander of the ad hoc army aviation group. "The provision of simulator training by Eurocopter South East Asia has greatly facilitated the service entry of the aircraft, allowing our pilots to operate them from the onset with confidence and ease."

To cater to the growing Dauphin fleet in Asia, Eurocopter South East Asia was designated earlier this year as the regional hub to provide training, major inspection and heavy structural repairs for the Dauphin family of helicopters.

"We welcome the Bangladesh Army to Eurocopter's global family of operators," said Bernard Brenner, President & CEO of Eurocopter South East Asia. "Their confidence in our products stems not just from the Dauphin's proven capabilities, but also from our ability to provide them with the full suite of support and services, which comes as a direct benefit from Eurocopter's policy of being in close proximity to the customers."

Eurocopter's AS365 N3+ is the company's latest member in the Dauphin helicopter family, featuring more powerful Arriel 2C turboshaft engines, an increased gross weight, a 4-axis autopilot and glass cockpit.

About Eurocopter South East Asia

Eurocopter South East Asia (ESEA) is the Regional Headquarters of Eurocopter, the world's leading helicopter manufacturer. Established in 1977 in Singapore, ESEA is the training and technical hub, and handles sales and customer support activities of 15 territories in total. In 2011, ESEA achieved a turnover of 135 million Euros. With a staff-strength of more than 200 professionals, the company has developed a successful commercial network of Singapore-based sales team and regional sales managers and technical representatives, servicing and maintaining more than 300 helicopters in the region.

Website: www.eurocoptersea.com.sg
Website Promotion
Airbus Helicopters
Established in 1992, the Franco-German-Spanish Eurocopter Group is a division of EADS, a world leader in aerospace and defense-related services. The Eurocopter Group employs approximately 20,000 people. In 2011, Eurocopter confirmed its position as the world's number one helicopter manufacturer with a turnover of 5.4 billion Euros, orders for 457 new helicopters and a 43 percent market share in the civil and parapublic sectors. Overall, the Group's helicopters account for 33 percent of the worldwide civil and parapublic fleet. Eurocopter's strong international presence is ensured by its subsidiaries and participations in 21 countries. Eurocopter's worldwide network of service centers, training facilities, distributors and certified agents supports some 2,900 customers. There currently are more than 11,300 Eurocopter helicopters in service in 149 countries. Eurocopter offers the most comprehensive civil and military helicopter range in the world and is fully committed to safety as the most important aspect of its business.
Press releases you might also be interested in
Weitere Informationen zum Thema "Aerospace":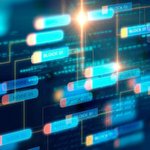 Blockchain wird 2018 das IoT revolutionieren
Nach Ein­schät­zung des eco-Ver­bands wird 2018 ein "ech­tes" Block­chain-Jahr. Die Zahl der kon­k­re­ten Bu­si­ness-An­wen­dun­gen wächst ste­tig. Neue Block­chain-Kon­zep­te wie Ethe­re­um oder Hy­per­led­ger Fa­bric sor­gen für mehr Per­for­man­ce und kom­men so dem In­ter­net der Din­ge (IoT) zu­gu­te.
Weiterlesen