CSP Survey: Industry report helps reduce site selection risks
First primary data based survey on solar power plants
Bonn

, (PresseBox) -
The global Concentrated Solar Thermal Power (CSP) market is growing and scientists and experts are acknowledging that this kind of alternative power generation in equatorial countries has an amazing potential. Theoretically – a fact that can be calculated very easily – a little over one percent of the total area of the Sahara could yield an amount of electricity equal to the combined total of all power plants in the world. One distinct advantage of Concentrated Solar Thermal Power can be seen in its cost efficiency by which even large amounts of energy can be generated. However, the initial investments present a clear disadvantage. "As an addition to our portfolio we have brought together our knowledge of the global market for large CSP plants in a survey based on primary data deducted from in-depth interviews. A core element of this chart report is a broad examination with the crucial factors regarding the selection of a site", explains Markus A.W. Hoehner, CEO of EuPD Research.

Site selection and value chain
The study "Concentrated Solar Thermal Power (CSP) – Now and in the Future", conducted by EuPD Research illustrates the steps along the value chain dealing with the manufacturers, project developers and engineering-procurement-construction (EPC) firms as well as the investors, creditors and utility companies. The survey also highlights the most important national markets and recent technologies. The results are complimented by qualitative estimations given by the most important research institutes and lobby groups.

"Because this technology lends itself to sunny regions with direct solar radiation, our chart report includes a detailed chapter dealing exclusively with the most promising locations for investments in CSP plants", explains Hoehner. "On the basis of differentiated national market ratings we are also able to provide recommendations regarding the selection of a site."

Besides geographic factors like solar radiation, the available land within the particular country or possible climate risks, political factors, such as political promotion or investment freedom within the regions were also taken into consideration. From this variety of different factors the opportunities and risks of an investment decision can be determined. Thereby the survey likewise addresses the well-established market participants but also provides access to this promising market of CSP, even for companies currently active in other fields of energy. "Especially photovoltaic companies can use the insights from the field of CSP as a valuable groundwork to observe a competing technology and its evolution from the very beginning", says Markus A.W. Hoehner.

Crucial market players and their brands
An important value of the survey is the detailed examination of the individual market participants. Besides their importance along the value chain the report for the very first time polled the aided and unaided brand awareness of the most crucial manufactures, project developers and EPCs. "Besides well-known Spanish project developers like Abengoa and Acciona the market leader in the field suppliers – e.g. Siemens as the leading turbine manufacturer and Schott Rohrglas as a deliverer of solar receivers – can also clearly be identified with their brands", says Project Manger Florian Schmidt from EuPD Research. In addition even the high profiles of investors were polled for the first time. While so far mainly Spanish banks and investment groups were associated with CSP projects, German investors like West LB AG were also identified.

The Survey: Concentrated Solar Thermal Power (CSP)
After years of rather static market development, a rising demand for clean energy and the interest of financial investors in undertaking sustainable investments is promoting the development of concentrating solar thermal power generation (CSP). In order to give an overview of the global CSP market, EuPD Research decided to carry out a survey – taking into account the points of view of all relevant stakeholders such as manufacturers, project developers, energy suppliers, investors, government bodies and other experts. The result is an industry analysis, which provides amongst other things a comprehensive overview of framework conditions and the development of the crucial CSP markets, most important market participants from all levels of the value chain, reasons for investments in the CSP sector as well as selection criteria and important B2B communication channels.

To learn more about the study "Concentrated Solar Thermal Power (CSP) – Now and in the Future", please follow the link: http://www.eupd-research.com/....
EuPD Research - Hoehner Research & Consulting Group GmbH
EuPD Research is a market and opinion researcher for media and companies. As a full-service provider with a highly specialized interview center, we offer a wide range of quantitative and qualitative research services. We create market studies, sector reports, and business climate indices and use this information to develop target-oriented decision support for our customers. In the process, we draw upon an expert network of scientists, decision makers and media representatives.
Press releases you might also be interested in
Weitere Informationen zum Thema "Energie- / Umwelttechnik":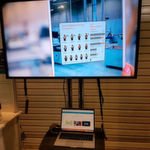 Das bietet Indoor Navigation kombiniert mit AR
In­s­i­der Re­se­arch im Ge­spräch mit In­s­i­der Na­vi­ga­ti­on: Auf dem Du­b­lin Tech Sum­mit traf Oli­ver Schon­schek von In­s­i­der Re­se­arch Cle­mens Kir­ner, Aug­men­ted-Rea­li­ty-Ex­per­te und Grün­der von In­s­i­der Na­vi­ga­ti­on.
Weiterlesen