Press release BoxID: 207402 (Engelking Elektronik GmbH)
Engelking Elektronik GmbH
Albstr. 16
78609 Tuningen,
de
https://www.engelking.de
Contact person
Thimo Hamma
+49 (7464) 9865-21

Spring Loaded Sealing Cap Provides Fail Safe Protection for Connectors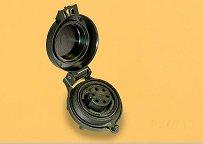 (PresseBox) (
Tuningen

,
)
While Bulgin's Buccaneer range of connectors offers IP68 protection to front of panel plugs when mated or fitted with the the screw-on cap, the problem remained for situations where general protection against ingress of moisture or dirt was required in applications where panel mounted connectors were left open. This issue has now been addressed and solved with an attractive and practical solution. The PX0713 sealing cap offers IP65 protection, is spring loaded to close with clip shut to seal. Any of the wide range of panel mounted standard Buccaneer series connectors can be fitted which means a professional and unified design can be applied to connection panels.
Für die oben stehenden Pressemitteilungen, das angezeigte Event bzw. das Stellenangebot sowie für das angezeigte Bild- und Tonmaterial ist allein der jeweils angegebene Herausgeber (siehe Firmeninfo bei Klick auf Bild/Meldungstitel oder Firmeninfo rechte Spalte) verantwortlich. Dieser ist in der Regel auch Urheber der Pressetexte sowie der angehängten Bild-, Ton- und Informationsmaterialien.
Die Nutzung von hier veröffentlichten Informationen zur Eigeninformation und redaktionellen Weiterverarbeitung ist in der Regel kostenfrei. Bitte klären Sie vor einer Weiterverwendung urheberrechtliche Fragen mit dem angegebenen Herausgeber. Bei Veröffentlichung senden Sie bitte ein Belegexemplar an
service@pressebox.de
.