EMPELOR To Finalize Secocard Platform
Zug, Kanton ZUG

, (PresseBox) -
Secocard Ready for Serial Production
Full Implementation of "What You See Is What You Sign"
Platform for Development and Migration of Security Solutions
First Operative Use in the Finance Sector
Upcoming Voice Encryption Project
Starting immediately, security solutions of all kinds can be built to run on the Secocard platform which has reached maturity for industrial mass manufacturing. Operative use cases have begun lining up in a queue.

"What You See Is What You Sign" is Secocard's mantra. This recent development by Dr. Paschalis Papagrigoriou, inventor of the microSD smartcard, has been reported ready for industrial series production in its first generation, according to its inventor. So the system is ready for the development and porting of both mobile and stationary security solutions.

Says Dr. Papagrigoriou: "We currently experience an incredible amount of requests for customer solutions to be brought onto the platform. Decision making is underway which projects will be implemented first. There is a very high probability that we will start in the sector of mobile payment systems."

While considering which products should come first, there has been intensive thought on whether to open the platform to global developers for free. To this end, Dr. Papagrigoriou commented: "Of course we give highest priority to our long-term customers, development and cooperation partners - they get the pole."

Secocard, a device which shares its surface size with that of a playing card, contains a platform for development and migration of security solutions which can make use of Secocard's ability to establish and control its own hard-coded IP connections. This architecture ensures that a smartphone whose network connectivity will be used by Secocard, cannot gain insight into a transmitted data stream. As a result, any chance to manipulate e.g. a payment process is effectively rendered impossible.

The system is introduced to its first productive application in the financial industry, where its capabilities, especially so the integral support of widely used German banking industry standards, are enthusiastically welcomed.

As logical next steps, the Empelor team looks forward to provide its initial user groups with larger numbers of the device based on the now possible industrial mass production.
For one of the next upcoming projects the foundation has already been laid: There will be a voice encryption solution running on Secocard, and Empelor pledged to reveal more details on this in the near future. A partnership with a European vendor was established in May 2016 and the development work is in full production. It will be interesting to see what Empelor will unveil as its chosen technology when entering this niche market. So far the only aspect that was published is that the solution will be compatible with all current off-the-shelf mobile phone models and architectures. It will provide non-corruptible security for the transmitted voice.
 
Website Promotion
EMPELOR GmbH
Empelor with its development sites in Switzerland, in Germany and in Crete is operating successfully in highly sensitive IT Security markets since many years. The company develops products and solutions that make mobile communication and transaction processes safer in a way which provides the best user experience.

Empelor enters into collaborations and partnerships with service providers who make use of mobile communication infrastructures. Empelor's mission is to deliver solutions to its partners which come with the best technologies to resist all known and potential attack vectors.

Empelor never takes a technical risk and prefers to cooperate with business partners who pursue a similar philosophy.

Press releases you might also be interested in
Weitere Informationen zum Thema "Sicherheit":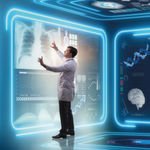 Safety, Security und Privacy in der Medizintechnik
Di­gi­ta­li­sie­rung ist der nächs­te gro­ße Trend im Ge­sund­heits­we­sen. Ver­netz­te Me­di­zin­ge­rä­te müs­sen da­bei den­noch si­cher blei­ben, vor Da­ten­klau und Ma­ni­pu­la­ti­on. Ex­per­ten sind sich ei­nig: Un­ter­neh­men müs­sen deut­lich mehr Zeit und Geld in den Schutz der Sys­te­me und der Pa­ti­en­ten­da­ten in­ves­tie­ren um Da­ten­si­cher­heit und DSG­VO-Com­p­li­an­ce si­cher­s­tel­len zu kön­nen.
Weiterlesen