Press release BoxID: 981445 (EMO Systems GmbH)
EMO Systems GmbH
Rungestr. 19
10179 Berlin,
de
http://www.emosystems.de
Contact person
Holger Schmidt
030400047588

EMOSAFE Network Isolator for Rail Systems
The network isolator suppresses electrical noise and galvanically decouples copper based Ethernet connections.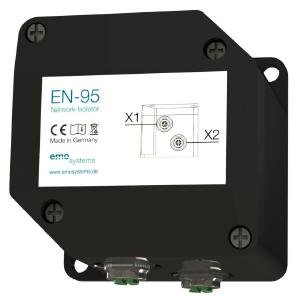 (PresseBox) (
Berlin

,
)
EMOSAFE EN-95 uses the same specialized technology developed by EMO Systems GmbH, Berlin to make medical Ethernet connections safer for patients. A custom transformer with a TVS diode array on each conductor provides a dielectric isolation of 5.6kV DC/4.0kV AC and ESD protection. No additional power supply is required. This high-performance device introduces extremely low insertion losses to data lines. Systems designed around the EMOSAFE EN-95 can obtain ISO 11801 Class D ratings. The EN-95 features robust M12 connectors commonly used in industrial applications for Ethernet applications. Sockets and DIN rails adapters are available as accessories.
Für die oben stehenden Pressemitteilungen, das angezeigte Event bzw. das Stellenangebot sowie für das angezeigte Bild- und Tonmaterial ist allein der jeweils angegebene Herausgeber (siehe Firmeninfo bei Klick auf Bild/Meldungstitel oder Firmeninfo rechte Spalte) verantwortlich. Dieser ist in der Regel auch Urheber der Pressetexte sowie der angehängten Bild-, Ton- und Informationsmaterialien.
Die Nutzung von hier veröffentlichten Informationen zur Eigeninformation und redaktionellen Weiterverarbeitung ist in der Regel kostenfrei. Bitte klären Sie vor einer Weiterverwendung urheberrechtliche Fragen mit dem angegebenen Herausgeber. Bei Veröffentlichung senden Sie bitte ein Belegexemplar an
service@pressebox.de
.