Top-level processing of instruments with Elma

Singen

, (PresseBox) -
The European Parliament has set a new course for the future medical device processing with its decision of October 22nd, 2013. "In order to avoid any systematic labelling of devices as single-use, all devices should be reusable as a rule, except if they are included in a list established by the Commission, after consultation of the MDAC, of categories and groups of medical devices which are unsuitable for reprocessing."1

In regard to a gentle handling of ecological and economical resources, especially the processing of cost and material intensive medical devices, like intracardiac catheters, will in the future become more and more interesting not only for hospitals and specialised companies but also for Elma as supplier of cleaning systems.

With different line conceptions Elma addresses different customer needs concerning the processing of complex medical devices and achieves high quality cleaning results. Here ultrasound as one of the latest cleaning methods is the core technology. With the ultrasound technology, every spot of a medical product where liquids can go can be reached which ensures that even the tiniest biofilm and other residues are removed. In addition to the ultrasonic cleaning, Elma steam generators have proven to be another highly effective method of cleaning hardly accessible spots (ex. articulated joints, bore hole instruments) or persisting contaminations (electrosurgery). All Elma products are perfect for the specific requirements of medical instrument cleaning. With units that combine spray and steam jet cleaning, rinsing and drying of the medical devices, Elma solves even most complex cleaning tasks.

For manufacturers of medical instruments and implants, Elma establishes customer-specific optimised cleaning procedures. Together with the client the optimal cleaning process and requirement-specific cleaning chemicals are developed and tested in the Elma application laboratory. Each cleaning lines are tailor-cut according to customer demands and medical devices – starting with pre-cleaning and intermediate cleaning to final cleaning and drying.

Fully automatic and individually configurable cleaning systems guarantee a high and consistent quality of cleaning processes. The Elma cleaning systems ensure validation of system and process, reduce the work load to a minimum and help to keep the ratio of errors caused by manual steps down.

Elma cleaning lines will meet highest demands for the processing of medical devices within Europe not only today but also in the future.

1Eurpean Parliament – Texts adopted, 22nd October 2013 "Medical Devices - Amendment 24 Proposal for a regulation Recital 31 a (new)", 13th January 2014, <http://www.europarl.europa.eu/...>.
Website Promotion
Elma Schmidbauer GmbH
Elma GmbH & Co. KG is an internationally successful company and leading in the field of cleaning technology and instrument engineering. Elma's core competence is the ultrasound technology. 100% family-owned, the company is led by Manfred H. Schmidbauer and has a staff of more than 200 people working at several company sites.

For more than 60 years, Elma has stood for quality and competence within various business sectors such as watches, jewellery, optics, medical engineering, dental, medical science (hygiene), laboratory and industry. The product range includes ultrasonic serial units, modular cleaning lines and customized cleaning systems, steam cleaning units and soldering and welding machines. To complete the product portfolio Elma offers all necessary accessory equipment for its units and cleaning systems. Tailor-cut cleaning chemicals for industry and craft are developed and produced in the Elma laboratory. Thus, Elma cleaning chemicals solve even highly complicated cleaning tasks for different applications.

Elma was founded as manufacturer of precision machines in 1948 in Singen/Hohentwiel (Germany). A chemical plant was built in 1983, and in 1991 an additional production facility was added. Elma is currently building its new headquarters which will be finished in 2014.

Elma has customers all over the world and delivers state-of-the-art technology based on long experience, innovative research and development and sectoral know-how.

Press releases you might also be interested in
Weitere Informationen zum Thema "Medizintechnik":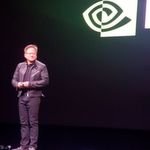 ARM und NVIDIA entwickeln gemeinsam KI-Chips
Um die Ent­wick­lung des ei­ge­nen KI-Pro­jekts Tril­li­um vor­an­zu­t­rei­ben, hat Pro­zes­sor­ent­wick­ler ARM ei­ne Part­ner­schaft mit dem GPU-Her­s­tel­ler NVI­DIA ge­sch­los­sen. Des­sen De­ep-Lear­ning-Ar­chi­tek­tur NVD­LA wird for­tan in die Tril­li­um-Platt­form in­te­griert.
Weiterlesen