Press release BoxID: 173040 (Elma Electronic GmbH)
Elma Electronic GmbH
Stuttgarter Str. 11
75179 Pforzheim
http://www.elma.de
VITA 46: ELMA expands backplane programme / VPX available in 3 U and 6 U
High growth is anticipated for applications in the aerospace and defence markets. VPX/VITA46 – with its high shock and vibration resistance – is particularly directed at. Different cooling concepts open up a whole range of other applications.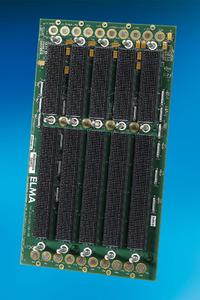 Elma Electronic GmbH
The ELMA group is a global manufacturer of products for housing electronic systems. The company provides everything from components such as modular enclosures, cabinets and Backplanes up to complete standard or custom System Platforms.
ELMA also manufactures precision rotary switches. The company offers a fast, flexible response to customer needs and extensive practical knowledge in tailoring solutions to specific applications.

Founded in 1960, the ELMA Group today is among the three leading suppliers for 19" Electronic Packaging and Rotary Components worldwide. The wide product range of the Electronic Packaging area includes not only modular systems of sub-racks, enclosures and cabinets but also industrial PC's, systems such as VME, VXI and compactPCI, as well as backplanes for the electronic and telecom industry.

Founded in 1987, today's ELMA Trenew Electronic GmbH is one of the leading solution providers and manufacturer in the field of Packaging Systems and Backplanes.
Our standard product portfolio includes all highspeed architectures like MicroTCA.4, CompactPCI Serial or VPX/OpenVPX, but also all classics like AdvancedTCA or VME64x . Our application engineers develop custom Backplanes and System Platforms to meet your specifications, from initial concept to finished product. These designs serve a wide array of industries including, but not limited to aerospace, military, industrial automation, telecommunications, medical, and high-performance computers.
By using the latest CAD tools and manufacturing technology we insure the highest level of performance and quality in the industry. The solid background in simulations and measurements, allows us to cover all elements of High-End designing to offer all qualified support from the concept phase to the product solution.