Press release BoxID: 814737 (DLK Ventilatoren GmbH)
DLK Ventilatoren GmbH
Ziegeleistr. 18
74214 Berlichingen,
de
http://www.pollrichdlk.com
Contact person
Michaela Kraft
+49 (7943) 910227

Neue Geschäftsführer bei DLK: Eppe und Wolfram!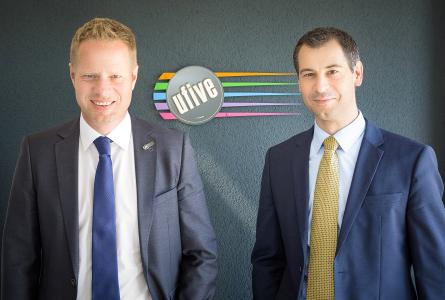 (PresseBox) (
Berlichingen

,
)
Ein weiterer Generationenwechsel steht in der Ventilatorenbranche an: Die Geschäftsführung der DLK Ventilatoren GmbH - dem Spezialisten für Axial- und Entrauchungsventilatoren-Systeme sowie Industrie-Radialventilatoren - wechselt. Nach fast 9 Jahren an der Spitze des Unternehmens verabschiedet sich Herbert Dieterle zum 1. Juli 2016 in den wohlverdienten Ruhestand. Seit 1998 war Herbert Dieterle als Geschäftsführer von Gebhardt Ventilatoren (heute Nicotra Gebhardt) tätig und ist damit der Branche seit knapp zwei Jahrzehnten treu geblieben. Seine Nachfolge beim Ventilatorenbauer aus Schöntal-Berlichingen im Kreis Hohenlohe treten die Herren Klaus Eppe und Dr. Daniel Wolfram an. Klaus Eppe wechselt aus der Geschäftsführung der Pollrich Ventilatoren GmbH in Mönchengladbach zur Muttergesellschaft DLK. Als Vorsitzender der Geschäftsführung wird er sich für die Bereiche Vertrieb, Service, Einkauf und Finanzen verantwortlich zeigen. Die Bereiche Technik und Produktion stehen unter der Leitung von Herrn Dr. Wolfram, welcher zuvor bereits 7 Jahren als Prokurist und technischer Leiter in Diensten von Pollrich und DLK stand.
The publisher indicated in each case is solely responsible for the press releases above, the event or job offer displayed, and the image and sound material used (see company info when clicking on image/message title or company info right column). As a rule, the publisher is also the author of the press releases and the attached image, sound and information material.
The use of information published here for personal information and editorial processing is generally free of charge. Please clarify any copyright issues with the stated publisher before further use. In the event of publication, please send a specimen copy to
service@pressebox.de
.