Pick Knowledge with Critical Manufacturing at Cherry Pick Porto 2016
Critical Manufacturing is the Gold Sponsor of the 1st edition of this project and José Pedro Silva will present "Angular JS - Building Enterprise Apps."

Porto

, (PresseBox) -
Cherry Pick Porto 2016 is the first edition of an ambitious project of NEI-ISEP, created for all students who are computer and new technologies buffs. This three-day event, filled with lectures, tech-talks, workshops, demonstrations of technologies, gadgets and networking, will be held on 28, 29 and 30 May at Instituto Superior de Engenharia do Porto (ISEP).

The origin of the expression "Cherry pick" comes from a functionality in Git (version control system) that consists of transferring a specific commit to another branch. Using this computer analogy, the organizers want this event to be the selection of what is best in the computer world and the transfer of such knowledge in an accessible form for students. This idea is expressed by the event's slogan, "Pick Knowledge!".

The NEI-ISEP (Informatics Students Union from Oporto's Higher Institute of Engennieering) is an association created by ISEP students aiming to enrich the experience of all of ISEP students during their stay in the institute, at multiple levels, related with Informatics, IT and New Technologies.

Critical Manufacturing is always eager to support academic initiatives like Cherry Pick Porto and to express this endorsement we sponsor the 1st edition of this great project. In addition, José Pedro Silva, software engineer working at CMF since 2013, will present at Cherry Pick on Monday, 30th of May.

"At Critical Manufacturing we are building the next generation of our flagship product Critical Manufacturing MES for the web and mobile devices. Using Angular 2, Typescript and Flux at its core, the new MES interface is designed to be used 24/7 by thousands of users every day in cross-platform and different size form devices across the world. In this talk I will share the latest development challenges we are facing and how we are modeling the system to have the performance and stability our customers demand. We will explore how Angular 2 latest betas are helping us moving in the right direction, embracing new standards and how we are managing our development environments to increase productivity."
 
ANGULAR JS - BUILDING ENTERPRISE APPS by José Pedro Silva
Date: May 30th, 2016
Time: 14:00 - 15:00
Location: Auditório H202, ISEP, Porto

For more information on Speakers and Agenda, visit Cherry Pick Porto 2016.
Critical Manufacturing Deutschland GmbH
Critical Manufacturing provides manufacturers in highly-complex environments with a modular, scalable manufacturing execution and intelligence system that enables users to flexibly address market demands, increase efficiency, and bolster reliability across the supply chain while lowering TCO. The company is part of the Critical Group, a private group of companies founded in 1998 to provide solutions for mission- and business-critical information systems. For more information, please visit www.criticalmanufacturing.de or contact us at kontakt@criticalmanufacturing.de.
Press releases you might also be interested in
Weitere Informationen zum Thema "Software":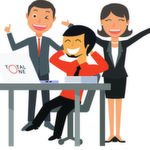 Mit Total One ist die Infrastruktur auf Microsoft-Cloud-Produkten in wenigen Stunden perfekt
Ab fünf Be­nut­zern lie­fert, im­p­le­men­tiert, kon­fi­gu­riert, ver­wal­tet und be­t­reibt der iri­sche Di­enst­leis­ter To­tal One au­to­ma­ti­siert die IT-In­fra­struk­tur von KMUs. Au­ßer­dem ver­spricht das Un­ter­neh­men: In we­ni­gen Stun­den ist die die Kun­den­in­fra­struk­tur mit­s­amt per­sön­li­chem Mi­cro­soft-Li­zenz-Ma­na­ge­ment on­li­ne und in­di­vi­du­ell ein­ge­rich­tet.
Weiterlesen