Press release BoxID: 956476 (CAM-Service GmbH)
CAM-Service GmbH
Garbsener Landstr. 10
30419 Hannover,
de
http://www.cam-service.com
Contact person
Dr. Alexander Köhler
+49 511 97939790

CAM-Service - CAGILA product suite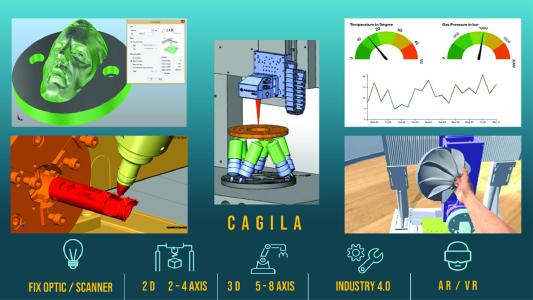 (PresseBox) (
Hannover

,
)
CAM-Service presents the latest release of the CAGILA NC programming suite for laser machines. CAGILA 2D provides sophisticated process strategies, like micro cutting and ablation using short pulse lasers for both, fix optic and scanner. CAGILA 3D provides easy NC programming of complex 3D CAD data from 3D printing and ablation, over 5 axis simultaneous processing up to turbine foil drilling using 8 axis. The new CAGI-Smart App suite is designed for tablets and smartphones used on the shop floor at the laser machine. A 3D viewer provides the CAGILA project data for the machine worker, while the IOT dashboard visualizes and monitors limits of Industry 4.0 based process and machine data by rules. For AR support cases digital contents can be displayed in the camera viewport of the tablet.
The publisher indicated in each case is solely responsible for the press releases above, the event or job offer displayed, and the image and sound material used (see company info when clicking on image/message title or company info right column). As a rule, the publisher is also the author of the press releases and the attached image, sound and information material.
The use of information published here for personal information and editorial processing is generally free of charge. Please clarify any copyright issues with the stated publisher before further use. In the event of publication, please send a specimen copy to
service@pressebox.de
.